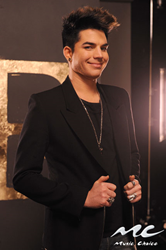 New York, NY (PRWEB) June 23, 2014
Music Choice, the multi-platform video music network, is celebrating Pride Week on Music Play this week—June 23 through June 29, 2014.
MC Play is celebrating LGBT Pride by talking to fans and artists alike about what Pride means to them. The week will feature exclusive interviews from artists including Jared Leto, Lance Bass, Macklemore & Ryan Lewis, Neon Hitch, Adam Lambert, Elvis Duran, Micah Jesse and many more! Also, teens from The Gay Center in New York join in on the conversation to share their views on LGBT rights. They discuss their favorite pride songs and artists and chat about how they are celebrating Pride week.
Tune-in all week long on MC Play or go to Music Choice's YouTube page to find out what your favorite artists and peers had to say.
For more information on Music Choice Play log onto http://play.musicchoice.com/ or to become part of the Music Choice Play community join us on Twitter: @MusicChoicePlay or Facebook: http://www.facebook.com/MusicChoicePlay
###