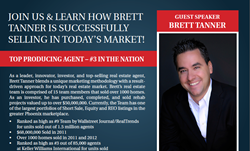 "Samuel Scott is a purchase-driven Mortgage Company and real estate agents are our business partners. We use events like this to give them a professional advantage," said company owner, Todd Pianin. "Brett is going to give our agents a first-hand lesson
San Diego, CA (PRWEB) June 25, 2014
Nationally recognized speaker and trainer, Brett Tanner is known in the real estate industry as a cutting-edge, result-oriented leader. His innovative approach to marketing and business systems catapulted his team of three to the #2 ranked team in the world in less than 36 months.
On July 9, Tanner will be in San Diego to lead an exclusive live seminar on his top business growth strategies. The event, which is being sponsored by Samuel Scott Financial Group, Fidelity Home Warranty and Centennial Escrow, is expected to attract more than 200 local Realtors.
"Samuel Scott is a purchase-driven Mortgage Company and real estate agents are our business partners. We use events like this to give them a professional advantage," said company owner, Todd Pianin. "Brett is going to give our agents a first-hand lesson on how to dramatically increase their production."
Today, Tanner runs a massively successful 23-person team at Keller Williams Arizona Realty. In addition to possessing an uncanny ability to break down systems and rebuild them more efficiently, Tanner has also relied on his ancillary partnerships to propel his career. Using his network of lenders, title companies, escrow professionals helps his team deliver dependable service and exceed client expectations.
"As a top-selling real estate agent, Brett Tanner blends a unique marketing methodology with a result-driven approach for today's real estate market," said Debra Estrada, Vice President for Fidelity Home Warranty. "We're excited to bring this valuable seminar to San Diego and give our agents the opportunity to learn from such a remarkable professional."
Contact Samuel Scott Financial Group if you'd like to attend the Brett Tanner event on July 9, 2014.
About Samuel Scott Financial Group
Samuel Scott Financial Group is a San Diego based mortgage company recognized for superior customer service and the way their Mortgage Advisors tailor the residential loan process to fit each individual client. Consistent and reliable, Samuel Scott Financial Group has been selected as The Best Mortgage Company in San Diego for the 7th straight year by readers of local publications. Expect competitive prices and first-class service for home loans of any size when you work with Samuel Scott.
© 2014 Opes Advisors, Inc. doing business as Samuel Scott Financial Group. Licensed by the CA Bureau of Real Estate 01458652 and NMLS 235584. Equal Opportunity Lender. All rights reserved.