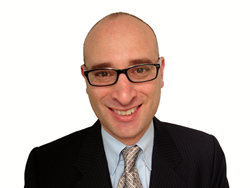 ...Tata Communications is known as a global teelecoms leader at the front of driving interoperability and establishing open ecosystems that in turn enable true collaboration...Patrick Mason - Dir. of Comm. & Marketing | CIOsynergy
Hoffman Estates, Illinois (PRWEB) June 25, 2014
CIOsynergy, a provider of thought leading events, today announced that Anthony Bartolo, Senior Vice President, Unified Communications and Collaboration at Tata Communications will be participating in the event's CIOreality™ panel discussion, an exploration of Enterprise IT and its battles, on June 26, 2014 at the Sheraton New York Times Square Hotel in New York, New York.
In a global work environment, where there is as much need to communicate and collaborate outside the enterprise as there is inside, the lack of interoperability, particularly when it comes to video, desktop sharing and collaboration tools, has acted as a barrier to collaboration.
Bartolo will share his perspective about how the closed systems that currently populate unified communications are actually damaging enterprise collaboration, and how both the industry and customers profit taking on new open standards.
"We are thrilled to have Tata Communications' Anthony Bartolo at CIOsynergy New York. The company is known as a global telecoms leader at the forefront of driving interoperability and establishing open ecosystems that in turn enable true collaboration. Anthony is well placed to provide valuable insight into what CIOs should keep front of mind in order to unleash the full potential of their Unified Communications strategies," says Patrick Mason, Director of Communications and Marketing at CIOsynergy.
"On the road, in the office and at home, collaboration platforms need to be universally accessible. If enterprises want collaboration to succeed, they need to take an agnostic and flexible approach that fits with their corporate culture when deploying Unified Communication strategies. We believe that browser-based interoperability and open standards is key to giving employees the tools to communicate seamlessly with anyone, anywhere, with the device of their choice – collaboration on their terms," says Anthony Bartolo, Senior Vice President, Unified Communications and Collaboration, Tata Communications.
CIOsynergy New York is an exclusive opportunity for leading local CIO and IT executives to network and brainstorm daily hurdles in an unparalleled learning environment under the umbrella of John Sculley. Mr. Sculley is one of America's best known business leaders. He was Pepsi-Cola Co.'s youngest CEO, leading the firm through its high growth years with hugely successful experience marketing innovations. In 1982, Steve Jobs recruited John Sculley as CEO to teach Apple how to do big brand experience marketing. Since leaving Apple, John and his Sculley Brothers Family Office has helped many high technology serial entrepreneurs build some of the most disruptively innovative technology enabled firms. These include MetroPCS, HotWire, NFO Research, Intralinks, and Credit Trade. Currently, John is mentor and investor in mobility and Big Data analytics, consumerization of healthcare, data base marketing, IT supply chain, and emerging financial services.
John Sculley will share his firsthand experience with the likes of Apple and Pepsi, offering insights on today's most innovative companies. He will show how companies can thrive, even in tough times, by embracing the power of innovative ideas and creating execution.
At CIOsynergy New York, a panel of leading CIOs, moderated by Scott Shuster, will share and explore how CIOs can be successful in their role. Mr. Shuster has led virtually every Business Week CEO, CFO, and CIO conference held since the founding of the magazine's events group - more than 100 of the world's most prominent gathering of large company leaders and senior executives.
Open to Fortune 500's and mid-market enterprise, CIOsynergy's events gathers senior executives from the office of the CIO, including Directors, VPs, Chief Architects, CTOs and CIOs.
For more information about or to participate in CIOsynergy New York, visit: http://CIOnewyork.com, or contact Araceli Delgado, Project Coordinator at aracelid(at)ciosynergy(dot)com or 1.847.278.2213 ext. 899.
About CIOsynergy
CIOsynergy provides a platform that brings together the thought leaders of IT through events that incorporate face-to-face meeting opportunities, panel discussions, think tanks and keynotes, and C-suite networking programs.
Previous events have attracted C-suite leaders from companies such as Wal-Mart, Salesforce, Home Depot, Bank of America, Forbes Media, Wells Fargo, Shell, Allstate, State Farm, Career Education Corp, Pepsi, Sara Lee, Kraft, BP, Loyola University, Kaiser Permanente, Mayo Clinic, and Walgreens.
The company operations nationwide and has previously partnered with sponsors such as IBM, 3com, VMware, Unisys, Hitachi, Oracle, SunGard, Dell, Google, Amazon, and HTC among 100's more.
About Tata Communications
Tata Communications Limited along with its subsidiaries (Tata Communications) is a leading global provider of A New World of Communications™. With a leadership position in emerging markets, Tata Communications leverages its advanced solutions capabilities and domain expertise across its global and pan-India network to deliver managed solutions to multi-national enterprises, service providers and Indian consumers.
The Tata Communications global network includes one of the most advanced and largest submarine cable networks and a Tier-1 IP network with connectivity to more than 200 countries and territories across 400 PoPs, as well as nearly 1 million square feet of data centre and collocation space worldwide.
Tata Communications' depth and breadth of reach in emerging markets includes leadership in Indian enterprise data services, leadership in global international voice, Sri Lanka (Tata Communications Lanka Limited) and Nepal (United Telecom Limited).
Tata Communications Limited is listed on the Bombay Stock Exchange and the National Stock Exchange of India.
http://www.tatacommunications.com
Forward-looking and cautionary statements
Certain words and statements in this release concerning Tata Communications and its prospects, and other statements, including those relating to Tata Communications' expected financial position, business strategy, the future development of Tata Communications' operations, and the general economy in India, are forward-looking statements. Such statements involve known and unknown risks, uncertainties and other factors, including financial, regulatory and environmental, as well as those relating to industry growth and trend projections, which may cause actual results, performance or achievements of Tata Communications, or industry results, to differ materially from those expressed or implied by such forward-looking statements. The important factors that could cause actual results, performance or achievements to differ materially from such forward-looking statements include, among others, failure to increase the volume of traffic on Tata Communications' network; failure to develop new products and services that meet customer demands and generate acceptable margins; failure to successfully complete commercial testing of new technology and information systems to support new products and services, including voice transmission services; failure to stabilize or reduce the rate of price compression on certain of the company's communications services; failure to integrate strategic acquisitions and changes in government policies or regulations of India and, in particular, changes relating to the administration of Tata Communications' industry; and, in general, the economic, business and credit conditions in India. Additional factors that could cause actual results, performance or achievements to differ materially from such forward-looking statements, many of which are not in Tata Communications' control, include, but are not limited to, those risk factors discussed in Tata Communications' various filings with the United States Securities and Exchange Commission. These filings are available at http://www.sec.gov.
Tata Communications is under no obligation to, and expressly disclaims any obligation to, update or alter its forward-looking statements.