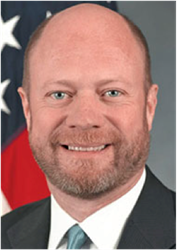 We cannot let our bureaucratic processes become our own most dangerous enemy. The Defense Acquisition System must get our warfighters what they need, when they need it, and it must be the absolute best the world has to offer.
Arlington, VA (PRWEB) June 24, 2014
National Defense Industrial Association (NDIA) announced that earlier today, Senior Fellow Brett Lambert testified before the House Armed Services Committee on the pressing and crucial need to put the safety, well-being, and technological superiority of our warfighters first.
"The advantages that have enabled American preeminence are not a birthright, and key elements of the industrial base that are necessary to ensure dominance on future battlefields must be sustained and nurtured," Lambert, who is also leading NDIA's initiative to identify issues of concern in the nation's defense supplier base, said in his prepared testimony. "We must foster and leverage an industrial base that keeps our troops from ever entering a fair fight. Our warfighters should never advance on an enemy only to find them better equipped due to less burdensome regulations or more reasonable audit policies. And make no mistake; while we focus on providing our forces with increasingly detailed and thorough audits, our adversaries gain ground on us technologically. If it is my daughter in harm's way, I have less concern with the thoroughness of an incurred cost audit and more concern with the quality and technological superiority of her equipment. We cannot let our bureaucratic processes become our own most dangerous enemy. The Defense Acquisition System must get our warfighters what they need, when they need it, and it must be the absolute best the world has to offer."
Lambert also testified about the changes to the Pentagon's industrial base: "In the coming years, the Department of Defense will increasingly purchase from what I call the 'millennial industrial base.' As defense budgets flatten or even decrease, our base will become more global, more commercial, and more financially complex. This reality is truer today than it was yesterday, and will be truer tomorrow than it is today. The defense industry and the suppliers that comprise it are constantly adapting to the Department's requirements, the conditions of the marketplace, and rules imposed by an overly bloated and bureaucratic acquisition system."
With regard to the "Millennial Industrial Base," Lambert called it "evolutionary," explaining that it is "where Moore's Law is more important than Milestones, and Metcalfe's Law is more vital to our national security than MilSpec."
He further explained how the "Millennial Industrial Base will change the Pentagon's thinking about research and development: "Today debates rage over the role of "IRAD" in defense innovation. But this single acronym conflates Independent Research and Development (IR&D) and Internal R&D (unfortunately also known as IR&D). Independent R&D are funds provided by the taxpayer to defense companies at a rate of roughly $4.5 billion a year, well over half of which goes to the major prime contractors. To be eligible for these funds, a firm must have an existing contract. There are many good reasons for these expenditures, and I support them all. It is a good program. Internal R&D, as every other U.S. company defines it, is self-directed and unreimbursed with the goal of investing in capabilities that have a clearly articulated return on the R&D investment. As the Department increasingly leverages the commercial market, Internal R&D may likely become a greater source of innovation than Independent R&D. It may be helpful, moving forward, to simply distinguish the two pools of resources and refer to "Independent R&D" as "Reimbursable R&D" which is in effect what it is. The Department would then be better able to distinguish, as will shareholders of public companies, the dramatic increases in IR&D driven by the Millennial Industrial Base that are not taxpayer funded yet may yield significant results for the warfighter if private investments are able to develop into goods and services the warfighter requires."
About NDIA: The National Defense Industrial Association (NDIA) is America's leading Defense Industry association promoting national security. NDIA provides a legal and ethical forum for the exchange of information between Industry and Government on National Security issues. NDIA members foster the development of the most innovative and superior equipment, training and support for warfighters and first responders through our divisions, local chapters, affiliated associations and events.
About Brett Lambert: Brett Lambert is NDIA's Senior Fellow and responsible for the Association's work on the future of the defense industrial base. From 2009 through 2013, Lambert was the Deputy Assistant Secretary of Defense for Manufacturing and Industrial Base. Lambert served as the principal advisor to the Under Secretary of Defense (Acquisition, Technology, & Logistics) on all matters relating to the defense industrial base, including industrial capabilities and assessments; defense industry mergers, acquisitions and consolidation; preservation of essential industries and technologies; and other related matters.
Lambert led President Obama's effort at the Department of Defense to establish the first National Network for Manufacturing Innovation site. In 2011 he was awarded the Secretary of Defense Medal for Outstanding Public Service and in 2013 he was awarded the Secretary of Defense Medal for Distinguished Public Service, the highest award from the Secretary available to a non-career civilian.
Prior to joining the DoD, Lambert spent 20 years working with defense and intelligence firms. From 1989 until 2007, Lambert held positions of increasing responsibility at DFI International, a national security consultancy. At the conclusion of his tenure with DFI, Lambert held the titles of Executive Vice President of DFI International and Managing Director of DFI Investment Partners.
Before joining DFI, Lambert worked for the U.S. Agency for International Development at the American Embassy in New Delhi, India. He attended graduate school at Jawaharlal Nehru University on a Rotary Graduate Scholarship he received during his senior year at Kansas State University. He also worked as an independent journalist in India, Pakistan, and Burma. Before his time in Asia, Lambert served in the Political-Military Group at the Center for Strategic and International Studies.