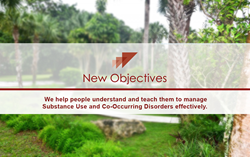 We see beyond the labels that society places on people, and we offer everyone who comes to us for help the best addiction treatment for their individual needs.
West Palm Beach, Florida (PRWEB) June 24, 2014
New Objectives, a West Palm Beach drug and alcohol treatment center, has earned The Joint Commission's Gold Seal of Approval for accreditation by demonstrating compliance with The Joint Commission's national standards for quality and safety in behavioral health care. An independent, not-for-profit organization, The Joint Commission accredits and certifies health care organizations and programs throughout the United States.
Joint Commission accreditation and certification is recognized nationwide as a symbol of quality care and state-of-the-art standards. Prior to officially recognizing the work of New Objectives, a team of Joint Commission experts evaluated the organization for adherence to standards of care specific to the needs of individuals and families served by the treatment center.
"In achieving Joint Commission accreditation, New Objectives has demonstrated its commitment to the highest level of care for the people they serve," said Tracy Griffin Collander, executive director of Behavioral Health Care Accreditation for The Joint Commission. "Behavioral health accreditation is a voluntary process, and I commend New Objectives for successfully undertaking this challenge to elevate its standard of care and instill confidence in the community it serves."
William J Romanos, Jr., M.D., medical director of New Objectives, said the center has made a significant investment in daily quality services. He and his entire staff are dedicated to the safety and well being of all clients and their families.
"Joint Commission accreditation provides us a framework to take our organization to the next level and helps us continue to create a culture of excellence," said Romanos. "Achieving Joint Commission accreditation is a major step toward maintaining first-rate standards and continually improving the care we provide."
As an example of its specific attention to quality care for all individuals who need support in recovery from addiction, New Objectives is one of the few treatment centers in Florida to provide services for pregnant women. The experienced staff of New Objectives recognizes that drug or alcohol addiction does not discriminate, and anyone can get caught up in the whirlwind, including women who are expecting. New Objectives will provide services for women up to seven months pregnant and is equipped to meet the special challenges they may need. Pregnant women who are addicted to drugs or alcohol are putting themselves and their unborn children at risk, so the New Objectives staff consults with OB/GYN physicians, including specialists who work with high-risk pregnancies.
This expertise, combined with the staff's professional knowledge of addiction and recovery, provides a safe place for pregnant women to restore their own health and prepare themselves to raise a child. Because New Objectives puts the safety of the mother and her child first, the treatment plan begins by helping a pregnant woman detox from drugs or alcohol and learn how to take care of her body. Once initial detox has been completed, pregnant women then learn proper nutritional habits to provide nourishment for themselves and their unborn children. Therapists and counselors then help mothers work through underlying mental health and emotional issues that contribute to their addictions. By treating body, mind and spirit, the New Objectives rehab program provides a multi-faceted approach that gives a strong foundation for ongoing sobriety.
New Objectives also has a quality LGBT-friendly treatment program, recognizing that individuals from all walks of life require immediate attention when addiction is involved. The LGBT program strives to meet the particular challenges people in the LGBT community face, such as a struggle with self-identity, acceptance, and sexual health problems. The New Objectives program provides treatment that helps them overcome these issues, so they, like all clients, can heal from their addiction and begin a new life.
"We see beyond the labels that society places on people, and we offer everyone who comes to us for help the best addiction treatment for their individual needs," Romanos said.
The New Objectives clinical team is made up of experts fully licensed by the state of Florida. The staff's experience, professional knowledge and training in substance abuse and public safety contribute to the atmosphere and attitude that has earned the organization's accreditation by The Joint Commission.