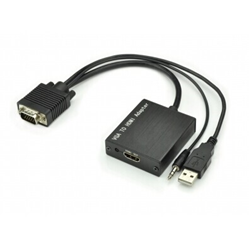 (PRWEB) June 24, 2014
Hiconn Electronics is one of the most reliable China electronics accessory manufacturers in the current market. The company is known to offer hundreds of great items. It is now a leading brand in the electronics field; most of its accessories have been highly praised and appreciated by the international clients.
Recently, the firm has added its latest collection of VGA with Audio to HDMI Converters to the VGA To HDMI Converter collection. What's more, it has launched a big sale for these great products. According to the company's sales manager, the special offer is launched to celebrate the coming of the football World Cup. Now, all the new VGA with Audio to HDMI Converters are offered at discounted rates, up to 30 percent off.
--Easy to use, installs in seconds, no settings and it is a resolution pass-through converter
--Purely for conversion between video formats but not convert the input/output video resolutions
--Compliant with HDMI 1.3
--VGA input: 640*480@60Hz, 800*600@60Hz, 1024*768@60Hz, 1280*720@60Hz, 1280*768@60Hz, 1280*800@60Hz, 1280*1024@60Hz, 1360*768@60Hz, 1600*1200@60Hz, 1920*1080@60Hz, 1920*1200@60Hz
--Audio for input – 3.5mm
--HDMI output – up to 1080P
In addition, Hiconn Electronics has also introduced advanced IT technology and made it easy to place orders on its website. Among thousands of electronics suppliers in the current market, Hiconn Electronics can always stand out for its excellence in quality electronics accessories and amicable services.
About Hiconn Electronics
Hiconn Electronics (Shenzhen Hiconn Electronics Co. Ltd.) is devoted to designing and manufacturing a wide range of connection cables and customized cable assemblies, offering many HDMI cables, VGA cables, SATA cables, USB cables, 1394 cables, DVI cables, SCSI (Small Computer System Interface) and more. For more information, please visit http://www.hiconn.net/.
Contact Person: James Yin (Sales Director)
Company Name: Shenzhen Hiconn Electronics Co., Ltd.
Address: Shenghua Building., Xixiang Road., Baoan District, Shenzhen, Guangdong Province, China
Zip Code: 518102
Tel: +86-755-8109 8345
Fax:+86-755-2779 3497