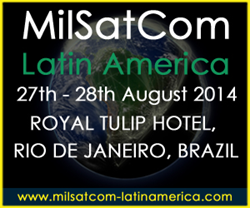 Rio de Janeiro, Brazil (PRWEB UK) 24 June 2014
For one year only, the SMi Group brings this industry leading event - MilSatCom Latin America - to Brazil, the hub for MilSatCom.
Dale Butler, Managing Director, SMi Group, commented: "We are proud to present this conference to Latin America. We knew the event would be a hit from the very first minute we started working on its programme, the feedback from the industry has been absolutely phenomenal. The Speaker Faculty includes leading experts from Brazil, Argentina, USA, El Salvador, Mexico, Peru, UK and other countries, promising to make this year's show the best to date in the region. Event attendees include three 3-star Generals, the Chief of Brazilian MoD's Command and Control, and a minimum of 15 representatives from the Brazilian Armed Forces. The conference is a real gem in our MilSatCom portfolio – with its unbeatable programme, top speakers and amazing venue – The Royal Tulip Hotel."
As well as featuring much discussion on Brazil, the event agenda includes presentations focusing on different Latin American countries (including Argentina, Peru, El Salvador) and their satellite developments. Event attendees will also be exploring Latin America's growing partnerships with other countries such as China.
Lt. Colonel José Everardo Julião Ferreira, MSc. Brazilian MoD - C² Technical Coordinator, IEEE and OSA Member, Metamaterial Researcher, commented: "I have great pleasure in welcoming you all to SMi Group's inaugural MilSatCom Latin America 2014 conference and exhibition. Global MilSatCom is the leading military satellite communications conference in the world and I am pleased to have this regional event taking place here in Rio de Janeiro."
SMi Group offers attractive rates for the military and public sectors as well as unique networking opportunities during this 2-day event. For more information about MilSatCom Latin America, please visit the website at http://www.smi-online.co.uk/milsatcom-lam66.asp or contact James Hitchen via tel: +44 (0) 207 827 6156 or email: jhitchen(at)smi-online(dot)co.uk.
MilSatCom Latin America 2014 is proud to be sponsored by O3b Networks, Embratel/Star One, Eutelsat and Harris Caprock. To find out about sponsorship opportunities, contact Alia Malick, Director, via amalick(at)smi-online(dot)co.uk you call +44 (0) 207 827 6168.