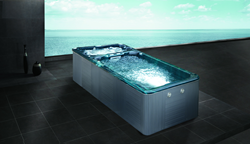 (PRWEB) June 25, 2014
Recently, XC Spa, one of the world's most outstanding spa suppliers, has announced its latest designs of swimming pools. Along with that, it has launched a big promotion for all these comfortable items. At the moment, they are available at extremely affordable prices, from 15 to 25 percent off. Such a special offer is launched to celebrate the coming of the exciting World Cup.
On the XC Spa's website, low prices do not mean poor quality. "All our cheap swimming pools are made from premium quality materials. Additionally, they have strong metal frames. I think worldwide consumers will enjoy a pool that is easy to assemble, elegant to look at, and certain to provide years of fun. So far, a lot of the new items have been bought. The current promotion will last until the end of June," the company's chief executive officer says.
It is true that the company's easy set pools have brought the enjoyment of backyard swimming to thousands of clients throughout the world. Its high quality products are the best value on the market today. All worldwide customers need to decide is what size fits their yards the best.
What's more, XC Spa's website has been updated recently; it wants to make its website a one stop shopping platform.
About XC Spa
XC Spa is an ISO9001:2000 certified company offering a wide range of Spa products, especially hot tubs, outdoor spa and swimming spa tubs. The company's products go through a strict quality-control process, and they are resistant to weathering, warping and scoffing. Premium product quality and great customer service are the reason that their products are widely recognized by the customers worldwide.
For more information, please visit http://www.xcspa.com/swim-spa/.