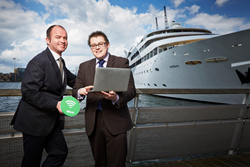 As a luxury hotel experience, it's crucial for us to provide the best facilities for our guests, who expect nothing less than the best and that includes Wi-Fi. - Michael O'Brien, Sunborn London
London (PRWEB UK) 25 June 2014
Bitbuzz, specialists in innovative Wi-Fi solutions for the hospitality sector, is rolling in the deep after securing a deal to provide Wi-Fi to the capital's first luxury yacht hotel, the Sunborn London, which is set to receive its first guests on July 1st.
Bitbuzz supplies Wi-Fi to over 12,500 hotel rooms in the UK and Ireland, and this is the first time the company is providing Wi-Fi for a boat. The 120 metre Sunborn London will offer 138 spacious yacht bedrooms and suites over five decks with entertaining space, including a fine dining restaurant, bar, auditorium and conference rooms, state of the art gym and vast outside decks and private terraces.
Located in London's docklands, the hotel will primarily attract corporate clients, with its close proximity to the ExCeL exhibition centre, London City Airport and Canary Wharf. Those attending conferences are heavily dependent on hotel Wi-Fi for work and relaxation purposes. The hotel's luxury accommodation and facilities will also provide the ideal base for tourists to enjoy the local attractions, including the O2, Greenwich and the Emirates Skyline.
Michael O'Brien, Project Director, Sunborn London said: "As a luxury hotel experience, it's crucial for us to provide the best facilities for our guests, who expect nothing less than the best and that includes Wi-Fi. Bitbuzz have a strong track record throughout the hotel industry, so I have every faith our guests will happily browse online."
Russell McQuillan, Business Development Director, Bitbuzz said: "As an independently owned company, we aim to innovate our service and product offering. Sunborn London is set to be a hotel experience like no other, and we are delighted to provide the Wi-Fi for hotel guests, who will be staying to experience the comfort and something a little bit different. A strong internet connection is now vital for hotel guests, as they check emails and consume content in their downtime."
Bitbuzz now has over 12,500 hotel bedrooms in its network and over two million registered users across the UK and Ireland. Since June 2010, Bitbuzz has been injecting much-needed competition into the UK Wi-Fi market. Notable clients include Tune Hotels, Queensway's Hotels, Holiday Inn Express, Costa Coffee, and Leeds Bradford Airport.