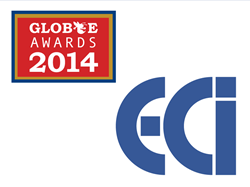 Elkhart, IN (PRWEB) June 24, 2014
Electronic Commerce, Inc. (ECI) has earned Globee Fastest Growing Private Companies in America and Rest of the World Awards for Customer Base Growth and People Growth. The coveted annual Globee Awards program encompasses America's best in Customer Base Growth, Partners and Distribution Growth, People Growth, PR and Marketing Growth, Products and Services Growth, Profits Growth, Regional and Area Growth, Sales Revenue Growth, Service and Support Growth, and Strategic Alliance Growth. Private organizations from all over America are eligible to submit nominations, which are evaluated based on growth and merit.
Globee winners were showcased during an awards dinner and presentation on June 23, 2014 in San Francisco, attended by winners, industry leaders, and judges.
"It's an honor to be recognized by Globee for this esteemed industry award," said Jeff Lacy, ECI President and CEO. "These awards are a testament to ECI's commitment to helping Human Resource teams streamline their processes and become more efficient with our proprietary Human Capital Management (HCM) software, Empower."
Customer Base Growth
"ECI's client growth has reached 65% in the last two years," said Sam Fessenden, ECI Vice President. "We provide personally answered phone calls and a level of service unparalleled in the HCM industry, and set ourselves apart by offering the ECI Experience to clients, which is a pre-sale, in-depth analysis of a company's HR systems, a specialized implementation process, and dedicated, ongoing support."
People Growth
ECI created 23 new jobs and experienced a 26% increase in people growth from January 2012 to June 2013, ranking it 15th nationally by industry and 6th among private business job creators in the state of Indiana by Inc. The company's growth earned national recognition with an Inc. Hire Power Award as a top job creator in the United States. The award celebrates private companies on the forefront of American job creation, shining a national spotlight on the crucial role private businesses play in creating jobs and bolstering the nation's economy. ECI will create 20-plus more jobs in 2014, and is proud to be among the nation's private companies that are moving the economy in a positive direction.
About the Globee Awards
SVUS Awards organized by Silicon Valley Communications are conferred in 10 annual award programs: CEO World Awards, Consumer World Awards, Customer Sales and Service World Awards, Golden Bridge Business Awards, Globee Fastest Growing Private Companies Awards, Info Security's Global Excellence Awards, Network Products Guide's Hot Companies and Best Products Awards, Pillar Employee Recognitions World Awards, PR World Awards, and Women World Awards. Learn more about the Globee Awards at http://www.globeeawards.com.
About ECI
Specializing in HCM solutions, ECI® created its Empower software to provide mid-sized companies with a cloud-based, fully unified platform that covers the entire employee lifecycle. Users can seamlessly transition from one HR task to the next inside a secure, single database. Leveraging cloud based, SaaS (Software as a Service) deployment, single sign on access and a variety of user-friendly features, Empower delivers the ability to streamline communication, automate workflows and simplify the user experience across a full scope of employee administration requirements. ECI has earned several awards, but is most proud of a 97% client retention rate. Learn more at http://www.ecipay.com or call 800-320-9530.
For additional information, please contact:
Leanne Phillips
Director of Marketing
Electronic Commerce, Inc.
2810 Dexter Drive
Elkhart, IN 46514
574-970-4400
lphillips(at)ecipay(dot)com