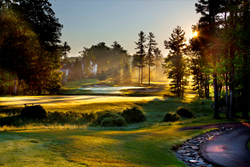 "Having worked at a number of courses during my 20-year professional career, I am eager to offer instruction and share my excitement for the game at such a beautiful property"
Hawley, PA (PRWEB) June 25, 2014
For many, the start of warm summer weather signals the beginning of golf season. This season is particularly exciting for The Country Club at Woodloch Springs, a championship golf course located in the Pocono Mountains and part of the all-inclusive family resort, Woodloch Pines. Charley Winn, a 20-year member of the PGA of America, will serve as the Director of Instruction. Mr. Winn prides himself on offering exciting instructional teachings from which even the most unexperienced golfer can benefit.
"I am very happy to be here at The Country Club at Woodloch Springs," Mr.Winn said. "Having worked at a number of courses during my 20-year professional career, I am eager to offer instruction and share my excitement for the game at such a beautiful property."
Mr. Winn's main goal is to offer fun and flexible programs that will improve the skills of players of all ages and abilities. Mr. Winn previously worked as lead instructor at the Ocean Reef Club in Key Largo, Florida, and at Sonnenalp Resort in Vail, Colorado.
Some of the instructional offerings that will be available include:

"Afternoon Tee Thursdays"
Golfers can play 18 holes for $55 after 12 p.m., a price that also includes the cost of a cart and a $20 credit for The Grille Room, a casual American restaurant overlooking the course. Additionally, kids golf free.

30-60 minute lessons to suit student's specific needs and improve shot making

Designed to manage the player's strengths and weaknesses on the golf course with an emphasis on game strategy rather than swing mechanics

A great option for family and friends to golf in a casual social setting

"Get Golf Ready" is a national program geared at introducing those new to golf with the key components needed to play the course with confidence in an unintimidating way. It is a five-lesson offering promoted and tested by the PGA of America. Each session will focus on the various golf skills needed while playing. In addition to learning the basics, golfers will be guided onto the course to put their skills into action in a casual friendly setting. No equipment needed.

One-hour clinic for ages 5 through 12 with an emphasis on fun, safety, etiquette and swing fundamentals. Topics covered will be grip, posture, aim, swing in balance, respect for others, care of the course, and contests.

A three-day offering designed to provide the intermediate/advanced junior golfer with video swing analysis, playing strategy, equipment evaluation, and rules of golf information. Students meet over three consecutive days for 90 minutes of instruction.

Set in an isolated practice area, this program is designed for a student to arrive with a specific dilemma and depart with a solution to fix the problem.

Held in an isolated practice area, this bi-weekly offering will cover a specific shot in a casual clinic-type atmosphere.

Golf schools are a convenient option for a group of friends and/or family to gain a comprehensive instruction package at a fee that is typically less than private instruction. This program is available to suit the needs of any group in terms of dates and times. Video analysis, club fitting, long/short game techniques and on course instruction.

Players are fit for drivers, long game clubs such as hybrids and lofted fairway metals, irons, wedges and putters. It is important to make sure each golfer's set makeup is matched exactly to personal abilities. Club fitting is the key element in improving one's game. It is important to know that the club should fit the golfer rather than the golfer trying to fit the club. Equipment from all major manufacturers available for demo and special order.
For more information regarding instruction, tee times, and pricing, please contact the Pro Shop at Woodloch Springs at 570-685-8102 or visit woodloch.com/golf.
About Woodloch Pines Resort:
Creating a magical experience for families since 1958, Woodloch Pines Resort's signature warm hospitality keeps guests returning year after year and offers a truly unique all-inclusive family vacation experience fitting for everyone's taste. An award-winning family resort, championship golf course and sister property featuring a luxury destination spa are just 95 scenic and convenient miles from New York City nestled in the Pocono Mountains Lake Region.