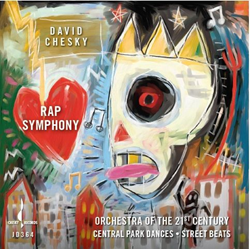 Rap is part of our society," he explains. "It's an indigenous part of our contemporary cities. It's an urban art form. Whether we like it or not, it reflects contemporary life in an urban city
New York, New York (PRWEB) June 25, 2014
It was back in 1982 that Grandmaster Flash and the Furious Five sounded the alarm about mounting tensions in the urban jungle of New York City with their chilling social commentary rap anthem "The Message" ("Don't push me 'cause I'm close to the edge/I'm trying hard not to lose my head/It's like a jungle sometimes it makes me wonder/How I keep from goin' under").
Thirty-two years later, classical composer David Chesky is ringing that same warning bell with his Rap Symphony. A darkly dissonant, harrowing work that addresses such modern maladies as the superficiality of reality TV, a corrupt and crumbling financial base and the blatant worship of the almighty dollar over art while "New York is burning." Chesky's existential opus by his 21st Century Orchestra (featuring rappers MIKE TWO and LEBER) is bound to shake up the status quo while pointing out the need for the classical music establishment to acknowledge the real world of today.
While the music stands on its own merit and will certainly appeal to adventurous listeners who have already embraced the music of 20th century classical composers, the presence of rappers is bound to be off-putting to the uninitiated. But Chesky felt compelled to include this element in his work to make it relevant and vital to today's audience. "Rap is part of our society," he explains. "It's an indigenous part of our contemporary cities. It's an urban art form. Whether we like it or not, it reflects contemporary life in an urban city."
"The lyrics are about a transitional society, a society that is going from the word to the image. It's about a society that used to believe in depth and books and reading and jazz and abstract thought to a simplistic, superficial society that only cares about the quick Starbucks or Twitter fix. It's all lightness of being today, it's not like the '60s where there was a lot of exploration in jazz, in classical music, in writing. Now people want their jazz nice and safe, they want to know what they're going to hear before they walk into a concert. We don't celebrate anticipation anymore. People don't want to put the time in. So this symphony is about the collapse of that whole ethos."
Download David Chesky's Rap Symphony and watch the video!