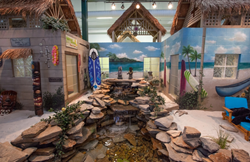 "Besides boarding, My Second Home can provide exercise, enrichment, and other benefits to your pet," says Chris Starko, Director of Marketing and Brand Management for My Second Home, "We can increase [your pet's] quality of life."
Nashville, TN (PRWEB) June 25, 2014
My Second Home; Nashville's Premier Pet Boarding, Grooming, and Daycare facility; recently invested $250,000 in their indoor and outdoor spaces, in order to provide even more accommodating features to the area.
My Second Home was founded in 2004 by Dan Starko. The company was started when Starko noticed a fundamental issue in the pet boarding industry: that safety, serenity, and healthcare was not coming before any other considerations when it comes to caring for someone else's pet. With this in mind, My Second Home became a Pet Resort that not only provides boarding services, but also grooming, daycare, and hourly lodging.
"Besides boarding, My Second Home can provide exercise, enrichment, and other benefits to your pet," says Chris Starko, Director of Marketing and Brand Management for My Second Home, "We can increase [your pet's] quality of life."
While at the Pet Resort, pet-parents should know that their dogs and cats will be treated to play and exercise time, mini-mattresses that are freshly laundered in industrial washer and dryers, and sound controlled-suites. The facility also features 24/7 video monitoring and an on-call vet in case of emergencies.
They continuously strive to improve their products and services, an idea that they proved this past year by adding new outdoor dog parks and pavilions, along with upgrades to their premier suites, flooring, misting and other auxiliary systems. Their new artificial turf play yard eliminates the grime associated with real grass, while keeping dogs safe from sanitation issues. The turf is extremely soft, which is perfect for any dogs with soft pads.
Beyond the systems they are upgrading for pet boarding, they are also currently upgrading their retail store. Like any hotel that provides a gift shop for their visitors, My Second Home's Retail Store gives pet guardians the opportunity to shop for both local and nationally-made products for dogs and cats.
My Second Home is a family-owned business. Prior to building My Second Home, Dan founded Bulwark Protective Apparel, the world's largest producer of fire-protective and work-wear apparel. Dan is a passionate pet lover and entrepreneur who believe in continuous improvement in all aspects of business. Pet-Lovers can find out more information, including pricing and hours, online at http://www.mysecondhome.com.