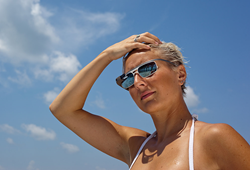 ...we want to bring something fun and stylish to wearable tech.
Rochester, NY (PRWEB) June 30, 2014
As Google Glass makes its mark in the computer world, designers add style and trendy looks to the newest wearable tech. Sun Lenses from Rochester Optical are non-prescription tinted and mirrored lenses that attach to Google Glass when combined with Smart Frames.
"With these new sun lenses, we want to bring something fun and stylish to smart glasses," commented Patrick Ho, CEO of Rochester Optical. "The wearer can customize our sun lenses to his or her liking and express individuality - bringing style and art to the technology. We think we have achieved that."
These fun Google Glass accessories come in 14 tint colors and mirrored finishes providing protection from UV rays. The teasers of the mirrored sun lenses have been a hit on social media, creating a new cool-factor for Google Glass wearers.
Rochester Optical is a diversified manufacturer of ophthalmic lenses, eyewear, and is a full service wholesale digital optical laboratory with over 80 years of experience. They continue to serve eye care professionals and corporate customers with an eye on service and innovation. Rochester Optical is an independently owned and operated optical lab and manufacturer, and is not affiliated with Google or Google Glass.
For more information:
Sue Smith 585-254-0022
sue.smith(at)rochesteroptical(dot)com
http://www.rochesteroptical.com