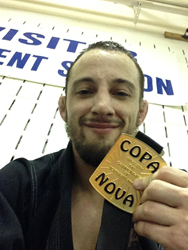 It was cool to get promoted alongside my teammates. - Lenny
Camp Springs, MD (PRWEB) June 26, 2014
Lloyd Irvin held a night of promotions on June 4, 2014, following a stellar performance at the 2014 World Jiu Jitsu Championships. Master Lloyd Irvin was proud to promote three students to Black Belt: Sijara Eubanks, Tim Spriggs, and Malcolm Vaughn, two to Brown: Lenny Maggio & AaRae Alexander, and two to Purple: Jamil Hill-Taylor and Malachi Edmonds.
Lenny Maggio, the Maryland native, joined Team Lloyd Irvin in 2006 and over the years has won multiple Grapplers Quest and NAGA championships. Although, Lenny did not get the result he desired at the 2014 World Jiu Jitsu Championships, he fought well and looks forward to competing again soon.
Maggio's goals are to earn his Black belt under Master Lloyd Irvin and one day open his own Jiu Jitsu Academy under the Lloyd Irvin MMA affiliation.
"It was cool to get promoted alongside my teammates and new Black belts. My good friend Sijara was promoted that night, along with Tim, Malcolm, Jamil, Aarae, and Malachi. It was a great feeling and I'm looking forward to what's coming in the future for me and the whole team," says the new brown belt.
Lloyd Irvin's Martial Arts Academy is located in Camp Springs, Prince George's County, MD. Lloyd Irvin first opened the doors of the Academy in 1996, and has since grown into one of the most prestigious, most sought after BJJ and MMA academies in the World. The Academy offers classes for Men, Women, and Children in BJJ, MMA, Muay Thai, Wrestling, Fitness, and more.
For more information on Lloyd Irvin's Martial Arts Academy, please visit http://www.lloydirvinlive.com, or call 301-449-KICK, lines are open 24/7