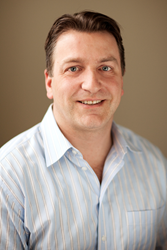 'I've been fortune to have an incredible team and support system that has led to incredible success and growth for cleverbridge over the last nine years.' ~ Craig Vodnik, co-founder, cleverbridge
Chicago, IL (PRWEB) June 25, 2014
cleverbridge, a global full-service e-commerce provider for software and cloud companies, announces that EY has named cleverbridge co-founder, Craig Vodnik, a finalist for EY Entrepreneur Of The Year™ 2014 in the Midwest. The awards program recognizes entrepreneurs who demonstrate excellence and extraordinary success in areas such as innovation, financial performance and personal commitment to their businesses and communities. Winners were announced at a gala event on June 18 at the Navy Pier Grand Ballroom in Chicago.
Now in its 28th year, the EY Entrepreneur Of The Year program has expanded to recognize business leaders in more than 145 cities in more than 60 countries throughout the world. All finalists are selected by an independent judging panel made up of business, academic and community leaders. Recognized globally, this award highlights the significant contributions of entrepreneurs who inspire others with their vision, leadership and achievement. EY named cleverbridge CEO and co-founder, Christian Blume, a finalist for the EY Entrepreneur Of The Year 2013 award for Germany.
"I am extremely honored to have been selected as a finalist for this prestigious award, among this group of regional leaders," said Vodnik. "I've been fortune to have an incredible team and support system that has led to incredible success and growth for cleverbridge over the last nine years. This award validates the commitment to our clients and our community that we've always strived for since the formation of the company."
In 2005, cleverbridge founders set out to develop a powerful, flexible e-commerce solution. Based on extensive experience in the e-commerce industry, the founders saw an opportunity to improve upon existing technology solutions, client service, dispersed data platforms and analytics capability. With their experience and a growing confidence that companies did not want to choose between speed to market and customization, the team launched cleverbridge with offices in Germany and the U.S. Bootstrapped from the beginning, cleverbridge has experienced tremendous growth, been profitable since 2007, and is well-positioned for future growth as software and cloud companies continue to transition from a single, one-time transaction with a customer to subscription-based services and recurring revenue models.
Regional award winners are eligible for consideration for the EY Entrepreneur Of The Year National program. Award winners in several national categories, as well as the EY Entrepreneur Of The Year National Overall Award winner, will be announced at the annual awards gala in Palm Springs, California, on November 15, 2014.
The EY Entrepreneur Of The Year 2014 in the Midwest list of finalists is available online at http://cbridge.to/EY2014. To learn more about cleverbridge, please contact inquiry(at)cleverbridge(dot)com or visit http://www.cleverbridge.com.
About cleverbridge
cleverbridge is a proven leader in e-commerce expertise, technology and services for leading software and cloud companies that serve consumers and businesses. For more than 300 clients – including Avira, Corel, Dell, Malwarebytes and Parallels – cleverbridge is a true extension of their teams, understanding each client's billing models, markets, channels and specific e-commerce requirements. cleverbridge provides an unsurpassed customer experience so that clients can strategically leverage e-commerce to effectively build customer relationships and generate more revenue. Headquartered in Cologne, Germany, cleverbridge has offices in Chicago, San Francisco and Tokyo. For more information, visit http://www.cleverbridge.com or the Building Keystones blog.