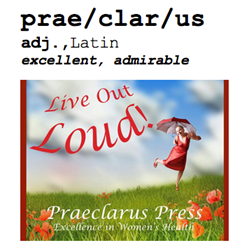 "Many women can't even get a paid day off to give birth — now that's a pretty low bar that we should be able to take care of." - U.S. President, Barack Obama
Amarillo, Texas (PRWEB) June 28, 2014
On Monday June 22, The White House Summit on Working Families was held to discuss the challenges that women face as they often struggle to provide for their families while simultaneously working to make ends meet. Bringing together parents and leaders from a variety of backgrounds ranging from government to business, the goal of the summit was to better understand what types of policy changes need to be made to help families succeed. Praeclarus Press specializes in bringing a variety of products to the public, all related to the issues of women's health - from the challenges mothering can bring to the task of caring for aging parents.
Families are continually affected by the obstacles that pregnant women and mothers encounter, such as: how to have birth experiences that they are in control of and with which they are comfortable, figuring how make breastfeed while working compatible, perinatal mood disorders that may go unnoticed by care providers, and where to find support online and resources to help if they are breastfeeding. These challenges vary among populations as well. For example, statistics show that in the United States African American women lack birth and breastfeeding support when compared with other minorities.
Another challenge that is being recognized for families is the prospect of fitting the need for elder care into the lives of younger generations. As our population continues to reach maturity, families are dealing with caregiver stress, navigating waters that are unknown and most often the primary caregivers for aging parents and relatives are women.
For more information on these topics, please consider viewing the Praeclarus Press store to browse these titles: Birth Ambassadors, Working and Breastfeeding Made Simple, A Mother's Climb Out of Darkness, The Virtual Breastfeeding Culture, Free to Breastfeed, and Somebody Stole My Iron. In addition to books and e-books, new webinars are presented every month which cover a variety of topics. Webinars are presented by leading experts in their respective fields with a goal of helping promote a greater understanding of the issues we face and the proposition of successful solutions. For more information on books, webinars, white papers and the first Maternal-Infant Sleep Conference in November 2014, featuring leading experts in the field and presented by Praeclarus Press, please visit http://www.PraeclarusPress.com
Praeclarus Press is a small press founded by Kathleen Kendall-Tackett, Ph.D., IBCLC, FAPA and specializes in women's health. It features books, webinars, and products that support women's health throughout their lifespan. Based in Amarillo, Texas, the mission of Praeclarus Press is to produce materials that change women's lives.