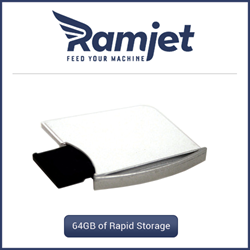 Champaign, IL (PRWEB) July 01, 2014
Ramjet, a leading provider of memory upgrade and storage solutions for Macs, today announced the launch of Ramjet Rapid Storage, a microSD flash card plus adapter. The flash card is based on microSD card technology provides up to 64GB in additional flash storage that fits snugly into an open SD card slot.
"We often hear from our customers that they regret not opting for more storage with their original Mac purchase, particularly those with MacBook Airs," reported Steve Lizardi, managing partner at Ramjet LLC. "Relying solely upon a cloud solution for your storage needs isn't practical in certain non-wifi locations. With Ramjet Rapid Storage, you can quickly add up to 64GB of more flash storage without the added bulk of a USB drive."
Ramjet Rapid Storage options include 16GB, 32GB, and 64GB. Each microSD card is paired with a sleek adapter that fits a standard SD card slot. The adapter's silver edge blends smoothly into a Mac's exterior and is easily forgotten until it's time to take files on the go. Simply remove the adapter to transport.
Ramjet, based in Champaign, IL, is a provider of top quality Mac Memory and storage solutions for Macs and has served the Apple community with genuine Mac expertise for the past 18 years. Offering top quality upgrade solutions and genuine Mac expertise, Ramjet is frequently cited as a leading Mac memory supplier. Ramjet's live technical support team is unparalleled in the industry and delivers same-day shipping services (http://www.ramjet.com).