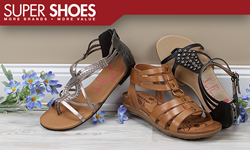 Every woman deserves a new pair of sandals for vacation.
(PRWEB) June 26, 2014
Every vacation needs the perfect pair of kicks (and maybe even several perfect pairs) to ensure style and comfort while walking on the beach, hiking, biking, out on date night, or wherever adventure may lead. Luckily, Super Shoes now carries a large line of women's vacation sandals for every whim that summer break may bring.
For fun and edge on the streets, check out the classic lines of the Jellypop Newstar Thong. Macramé simply screams "summer" and will go with any maxi or sundress. For something more girly and flirty, Aeresoles Branchlet Thong is a go-to. White leather with flower detail lends head to toe giggling glam to any; from head to toe!
For shoes with more on-the-go verve for active days while away, have a look at the Rafters Breeze Tropicana Thong. A thick walking sole combined with tropical flower detail combines sporty and feminine into one perfect look. The Crocs Capri IV Thong take crocs to a new level. More fashion-forward than the classic clog, these are great for boardwalking or sand duning. The Rafters Antigua Stripe Thong is great for a vacation sandal with a bit more "stick to the foot" power. Bike riding and hiking have met their match with this shoe.
A night out is never a problem with the perfect pair of vacation sandals. The Madeline All of a Sudden Thong lends sleek sophistication in metallic; pair these with that little black dress for an instant night-out look. The Jasmin Page Slide takes a classic look to a new level; its cork wedge heel makes beachy glam for any Havana Night.
No matter where the adventure leads, Super Shoes has Vacation Sandals covered. Check out their wide array of shoes for any destination-themed requirement.