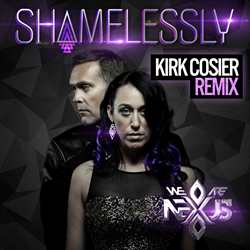 We received an email from Kirk saying he liked our work so we took a listen to his tracks. I was impressed with his Melbourne Bounce sound, a sound we lacked in our package. So we asked if he'd be interested in doing an official remix for us! -Nick Gunn
Chicago, IL (PRWEB) June 27, 2014
In the weeks leading up to (We Are) Nexus' third release, "Shamelessly," producer Nick Gunn and vocalist Carmen Rainier, the duo that make up the Chicago based EDM act, are excited about the remix pool of talent that appear on their new release.
While veteran remixers Dave Audė and Papercha$er both have amazing remixes on the EP, Nexus also reached out to newcomer and unknown remixer Kirk Cosier, offering him a spot.
"We received an email from Kirk mentioning that he admired our work and previous release "World Around Me" so we took a listen to his tracks," says Gunn. "I was particularly impressed with his Melbourne Bounce sound, a sound we lacked in our package. So we asked if he'd be interested in doing an official remix for us!"
With the "Shamelessly" EP due out on July 15th, Nexus are sticking to a plan that includes releasing a teaser each week leading up to the official street date. This week, Cosier's remix is highlighted as the latest in a series of teasers designed to promote the EP as the street date approaches.
Fueled by his early curiosity with music, Cosier was first introduced to digital recording at a young age and by 19 pursued his higher education in the art of recording at Full Sail University in Orlando, Florida. There he gained the technical skill and knowledge to thrive as an industry professional.
Inspired by the sounds of artists such as Markus Schulz, FFerry Corsten, and Dada Life, Cosier creates high energy tracks for the dance floor and hopes his "Shamelessly" remix for Nexus proves to be a big success.
"We are so excited about including Kirks remix in our Shamelessly package," says Rainier from Nexus. "Club promotions are already in full swing with it and we're excited about including his remix in radio promotions which are coming up in just a few weeks."
(We Are) Nexus exploded onto the dance scene in 2013 with their cover to Sonique's 1998 hit "It Feels So Good." The track was met with critical acclaim and proved there was a new duo on the EDM block. Their follow up track, "World Around Me," became a smash at dance radio with stations such as Music Choice Dance/EDM spinning the original mix 6 times a day.
With their third release "Shamelessly" just around the corner, the duo has high hopes for the single as their fan base continues to deepen and their awareness broadens.
(We Are) Nexus' new track "Shamelessly" is due out on July 15th, 2014. Listen to a teaser of Kirk Cosier's remix on YouTube at: http://m.youtube.com/watch?v=amM_-EoCGGk and get the full original plus remixes from Dave Audė, Papaercha$er, Kaleptic, and Kirk Cosier wherever music is sold on the official street date.
Join the Nexus Nation and follow (We Are) Nexus on Facebook at /wearenexusofficialpage, Twitter @wearenexusedm or Soundcloud at /we-are-nexus-edm.