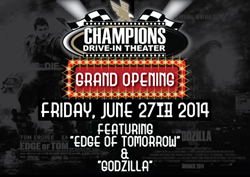 The Drive-In's first movie, "Edge of Tomorrow" featuring Tom Cruise and Emily Blunt will begin shortly after dark, followed by director Gareth Edwards' 2014 "Godzilla."
Elko, MN (PRWEB) June 26, 2014
Elko Speedway is proud to announce that Champions Drive-In Theater is slated for a grand opening this Friday night, June 27th, 2014 at 7:30 pm. The Drive-In's first movie, "Edge of Tomorrow" featuring Tom Cruise and Emily Blunt will begin shortly after dark, followed by director Gareth Edwards' 2014 "Godzilla." The drive-in theater (off of interstate 35 at Elko Speedway) is just a short 30 minute drive from down town Minneapolis. Many drive-in movie enthusiasts plan to make the trip this Friday for its first announced public viewing on Champions Drive-In Theater's outdoor digital projector.
The theater is proud to continue providing audiences a place to experience this classic tradition and couldn't think of a better place than Elko Speedway to host this experience for many summers to come. Champions Drive-In Theater will be open every night all summer long and will show many first run movies, as well as classics. In its inaugural year, Champions Drive-In is excited for local movie enthusiasts to have access to it's facility. As a venue for the past 49 years Elko Speedway prides itself on family, fun and entertainment. Owner, Tom Ryan stated, "Pairing the drive-in with the race track seems to be a great fit, and with the new addition race enthusiasts can look forward to attending Champions Drive-In Theater after races with no additional charge. We hope that our audience, both new and veteran will get a chance to experience the Drive-In at Elko."
Tickets will be $9.00 per adult and $4.00 for children (ages 4-12), ages 3 and under are free. Children must be accompanied by an adult. On Saturday nights, after races the movies will be included with a race ticket – after 9pm on race nights adults will be $7.00 and children $3.00. Movie goers can look forward to all of the amenities that Elko has provided it's audiences for so many years and more. Elko Speedway and Champions Drive-In Theater are family destinations that offer a fun safe place for families of all ages, therefor alcoholic beverage sales & consumption is offered in designated areas, minor consumption is not permitted. For the safety of both adults and children, no open fires, BBQ of any kind or pets (except service animals) will be permitted. For more info regarding Champions Drive-In Theater or Elko Speedway please visit:
http://www.elkospeedway.com/championsdrive-in/.
Champions Drive-In Theater, coming soon to a Speedway near you!