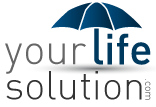 Chicago, IL (PRWEB) June 26, 2014
YourLifeSolution.com, a service which provides life insurance quotes online and instantly, is today beginning a campaign of irreverent memes published on Tumblr and other social media platforms to promote their service. "This would be the only irreverent ad campaign for marketing life insurance I've ever seen in America. There are some really great German life insurance commercials that tend to be filled with dark humor, but just about all American life insurance advertisements are just bland and sentimental. Most everyone looking for life insurance quotes online knows why they should have it and why it is a financial necessity, why not make fun of the concept a bit?", said Eric Smith, the founder and independent life insurance agent of YourLifeSolution.com.
YourLifeSolution.com has started placing memes on their Tumblr page, http://life-insurancequote.tumblr.com, and intends to continue doing so on a regular basis in an ongoing attempt to generate publicity and secondary backlinks to the various pages of YourLifeSolution.com.
Consumers interested in instantly comparing their rates for permanent or term life insurance are encouraged to visit YourLifeSolution.com or call 888.374.2764.