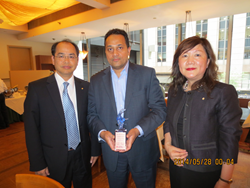 New York (PRWEB) June 26, 2014
Travelong, a Fareportal company, announced today that it was awarded China Airlines' Million Dollar Sales Award for the fifth consecutive year. The award recognizes the company for its sales, exceeding one million in 2013, and its achievement as an inventive business leader in the travel industry.
"This outstanding achievement is the result of close collaboration between Travelong and China Airlines," said Wei-Tuan Chiu, general manager for China Airlines in the United States. "We look forward to reaching new milestones with Travelong in the year ahead."
Through parent technology company Fareportal and its consumer travel brand CheapOair, Travelong works closely with the airlines to promote their products and services. The company's continued success has been acknowledged by awards from numerous airlines including Qatar Airlines, LAN/TAM Airlines, Avianca Airlines, SriLankan Airlines, Korean Air and Malaysia Airlines, as well as inclusion in Travel Weekly's esteemed Power List.
"We are honored to receive this award for the fifth consecutive year," said Sanjay Hathiramani, senior vice president of supplier relations at Travelong. "This achievement is a continuous testament to our growing business and ability to work closely with partners like China Airlines. We look forward to strengthening our airline partnerships and continuing to offer our customers the widest choice of air products."
About Fareportal: Fareportal is a technology company that powers online travel agencies. Combining innovative technology including web and mobile development and call center solutions with strong industry partnerships with over 450 airlines, Fareportal is focused on making it easy to book travel. With a portfolio of consumer travel brands including CheapOair and OneTravel, Fareportal brings real value to its suppliers and partners and makes travel affordable for millions of customers every year.