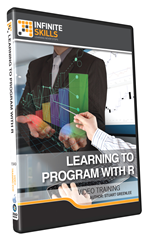 Learn to program with R at your own speed.
(PRWEB) June 26, 2014
Software training firm Infinite Skills Inc. last week released its "Learning to Program with R Tutorial," an entry-level course designed for statisticians, data miners, and database analyzers seeking to learn this feature-rich language for statistical analysis, statistical graphics, and high-level analytics.
R is an open-source statistical programming language, providing a wide variety of statistical and graphical features, including linear and nonlinear modeling, classical statistical tests, time-series analysis, and more.
Infinite Skills' "Learning to Program with R Tutorial," starts with the basics, where R can be used as a simple calculator, and advances to its capabilities for high-level statistical analysis.
Learning To Program With R Video Training - Streaming
Course author Stuart Greenlee is a quantitative analyst, working in strategy development at an investment firm, as well as a freelance statistical programming consultant. He studied economics and statistics at The University of Illinois at Chicago, and continues to work in the integration of statistics and computer programming, using R and Python in his everyday work of applying statistical models to financial markets.
Here, Greenlee provides an introduction to the basic features and functionality of the R programming language, setting students on the path to performing high-level statistical analysis.
Greenlee begins by demonstrating how to download R and RStudio, quickly moving into basic operations such as statistical functions, matrix operations, and string functions.
He then demonstrates the basics of plotting with R, showing how to use line plots, bar graphs and histograms, scatter plots, and more.
Subsequent chapters cover working with data and performing data analysis using descriptive statistics, applying functions, working with linear models, and more.
The course also looks at time series data, working with conditional statements and loops, and how to start writing user-defined functions.
"R is really a boundless calculator," Greenlee explains. "Learning and remembering the language and syntax of the calculator is often the hardest part of using R."
"In this course, I'll be showing you many of the statistical features and models of R, helping you get familiar with its syntax, vectors, data matrices, and how to manipulate and explore them."
"Once you have the basics in hand, we'll get into heavier statistical models and techniques that are R's most popular features."
Free demo videos and a full list of course contents can be found on the Learning To Program With R training page of the Infinite Skills website:
http://www.infiniteskills.com/training/learning-to-program-with-r.html
Infinite Skills offers its Learning To Program With R Training Videos either as a DVD or a direct download from the company website at a retail price of $49.95 each, or through its subscription streaming service at a rate of $25 per month. Though the compatibility of programs varies, all Infinite Skills titles and formats are compatible with both Mac and Windows operating systems, and shipping is available around the globe. Additionally, Infinite Skills tutorials are supported by project files which correspond to examples in the videos.
About Infinite Skills Inc.
A leader in the field of software training, Infinite Skills designs its courses on a task-oriented model, teaching complex skills by providing hands-on examples and guiding users as they carry out essential functions. Infinite Skills offers a wide range of software titles available as DVDs, digital downloads, and in iPad editions. Infinite Skills now offers a subscription service, providing access to all its training content for a monthly fee, keeping with company's aim of delivering professional training to customers anywhere they want to learn.