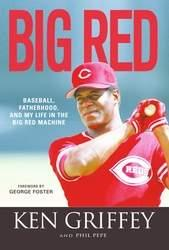 CEO of Simply G Media, GJ Reynolds said, 'I was a huge fan of the Big Red Machine, growing up. I loved watching Ken Griffey, Johnny Bench, Joe Morgan, Pete Rose and the rest of the Big Red Machine.'
Cincinnatti,OH (PRWEB) June 27, 2014
Neil Haley, The Total Tutor host of the Total Celebrity Show, interviewed Ken Griffey Sr. to find out about his career, his book and his charity work.
Griffey, who is the father of future Hall of Famer Ken Griffey Jr., made a name for himself as a member of the 1975 and 1976 World Champion Cincinnati Reds teams, who were nicknamed The Big Red Machine. A former outfielder, Griffey now serves as manager of the Bakersfield Blaze, the Cincinnati Reds' Single A minor league affiliate.
In the interview, Griffey discussed that he was only 25 years old when he ended up winning his first World Series, before repeating the same feat the following year. He talked about what made the Reds team of the mid-70s so great.
"Everyone knew exactly what to do," Griffey said. "We had a lot of fun doing it. We had some pranksters like Tony Perez. Tony and others kept people up and alive, and we had a lot of fun doing it."
Griffey talked highly of his teammates, and mentioned that while the starting eight always got credit for carrying The Big Red Machine, it was the solid pitching staff that helped pave the way. "People did not give our pitching staff credit. They always kept us in the game. Those guys were outstanding."
Griffey went on to explain his theory on why the dominant Reds team of the '70s stopped winning.
"When they started dismantling the team, we lost Tony Perez and then we lost Pete Rose. We got beat by Pittsburgh. That was the end of a great run."
Griffey also talked about the major players on the Big Red Machine. "Pete Rose was a hard worker and was very intense. But he had fun. Pete Rose is Cincinnati. He was our Captain. He'd get a hit, then Morgan would get a hit, then I'd get a hit, then Foster would get a hit. It was a machine."
"Johnny Bench was a little different. He had a cannon for arm and he could hit. You could not blow high fastballs by him. He'd drive it to right field or center field. We played like a business. We made the game physical."
CEO of Simply G Media, GJ Reynolds said, "I was a huge fan of the Big Red Machine, growing up. I loved watching Ken Griffey, Johnny Bench, Joe Morgan, Pete Rose and the rest of the Big Red Machine."
You can listen to this interview by going to http://simplyg.com/media/simplyg-radio/.