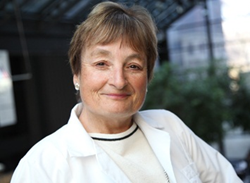 If you need help at any stage of your promising cardiac medical device's research and development, ranging from the earliest development of your medical device to the final regulatory FDA approval, our experienced team at CMeD at Mount Sinai Heart can help
New York, NY (PRWEB) June 26, 2014
Mount Sinai Heart at Icahn School of Medicine at Mount Sinai has created an innovative Center for Medical Devices(CMeD) to advance the field of cardiovascular medicine and accelerate the delivery of promising medical devices to cardiac patients. Julie Swain, MD, an experienced cardiothoracic surgeon and medical device expert has been recruited by Mount Sinai to help lead this pioneering initiative.
A practicing cardiothoracic surgeon for more than 25 years, Dr. Swain is also a clinical trials expert who has consulted for the U.S. Food and Drug Administration's Division of Cardiovascular Devices for 20 years. In addition to her role as Director of CMeD, Dr. Swain will serve as Professor of Cardiovascular Surgery and Director of Clinical Research in the Department of Cardiovascular Surgery at Mount Sinai.
"Our mission at CMeD will be to provide the critical expertise and guidance needed by medical device companies, inventors, and researchers to further develop and test innovative cardiac medical devices that show promise to advance the field of cardiovascular medicine and the heart health of patients around the globe," says Dr. Swain.
At Mount Sinai's CMeD, Dr. Swain joins forces with Mount Sinai Heart's internationally acclaimed leadership team including Valentin Fuster, MD, PhD, Director of Mount Sinai Heart and Physician-in-Chief at The Mount Sinai Hospital, and David H. Adams, MD, Chairman of the Department of Cardiovascular Surgery, who are both members of CMeD's executive leadership committee.
"Dr. Swain brings to Mount Sinai her vast expertise and knowledge in testing the latest medical device technology in clinical trials and navigating the regulatory approval process. Together, our CMeD team's in-depth knowledge and experience in all aspects of designing and conducting clinical trials will improve the evaluation of promising cardiac medical devices at Mount Sinai Heart," says Dr. Fuster.
"Dr. Swain is internationally acclaimed for her leadership as the key advisor on cardiac device trial design and data interpretation for the Food and Drug Administration over the past decade. She has been at the center of every major cardiac device trial in this role, and is thus uniquely positioned to lead our medical device program going forward. I expect this program to be a national level resource that will bring us access to a number of cutting edge clinical research opportunities, and assure our position as a leader in this space," says Dr. Adams.
CMeD's team will help further develop technologies and test medical devices in advanced clinical trials toward the strategic goal of regulatory approval, thus accelerating cardiac medical devices delivery to patients who may be in need of beneficial therapies. Services available through CMeD include cardiac medical device assessment and evaluation, regulatory approval strategies, advanced clinical trial design, data interpretation, assistance with FDA submissions, and potential access to clinical testing at Mount Sinai.
In addition, CMeD will be a training center for future medical professionals wishing to gain experience in advanced clinical trial design and evaluation of medical devices.
"If you need help at any stage of your promising cardiac medical device's research and development, ranging from the earliest development of your medical device to the final regulatory FDA approval, our experienced team at CMeD at Mount Sinai Heart can help," says Dr. Swain.
About the Mount Sinai Health System
The Mount Sinai Health System is an integrated health system committed to providing distinguished care, conducting transformative research, and advancing biomedical education. Structured around seven member hospital campuses and a single medical school, the Health System has an extensive ambulatory network and a range of inpatient and outpatient services—from community‐based facilities to tertiary and quaternary care.
The System includes approximately 6,600 primary and specialty care physicians, 12‐minority‐owned free‐standing ambulatory surgery centers, over 45 ambulatory practices throughout the five boroughs of New York City, Westchester, and Long Island, as well as 31 affiliated community health centers. Physicians are affiliated with the Icahn School of Medicine at Mount Sinai, which is ranked among the top 20 medical schools both in National Institutes of Health funding and by U.S. News & World Report.
For more information, visit http://www.mountsinai.org, or find Mount Sinai on Facebook, Twitter and YouTube.