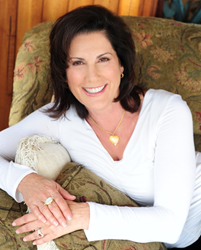 The Skinless Project is a vehicle for women the world over to share stories and build a mutually supportive community. It's an exciting development for women. — Arielle Ford
Chicago, IL (PRWEB) June 26, 2014
Self-help and relationship expert Arielle Ford is the featured Inspirational Woman for June 2014 on The Skinless Project, an emerging global hub for women's self-empowerment as leaders and consumers.
See the Skinless Project's profile of Ford at http://skinlessproject.com/inspirational-woman-june-2014-arielle-ford/
A publicist who helped launch the careers of self-help gurus Deepak Chopra (Timeless Mind) and Jack Canfield and Mark Victor Hansen (Chicken Soup for the Soul), Ford is the author of seven books including The Soulmate Secret: Manifest the Love of Your Life with the Law of Attraction. She is also co-producer of Chopra's video series The Happiness Prescription, and a founding partner of the Spiritual Cinema Circle.
"I am glad to be The Skinless Project's inspirational woman for June," Ford says. "The Skinless Project is a vehicle for women the world over to share stories and build a mutually supportive community. It's an exciting development for women."
Maaria Mozaffar founded The Skinless Project in 2012 to propagate the truth that women are more than skin deep. The Skinless Project connects women around the world through a global community, seminars, self-empowerment resources, and connections to products and brands that advance a healthy, positive vision for women, families, and communities.
A practicing attorney with a focus on policy and mediation, social entrepreneur, wife, mother of three, and triathlete, Mozaffar speaks for a new generation of women who do want it all.
"Arielle Ford embodies The Skinless Project's values of self-actualization, love, and women finding success on their own terms," Mozaffar says. "In her work as an author, publicist, and producer, Arielle shows that we are more than skin deep."
"I never thought about competition," Ford tells The Skinless Project. "My core belief is that 'everyone always says yes to me,' and if they don't say yes it's because something bigger or better is on the way to me. In my current field of 'love and relationships,' my closest friends are what others might consider my 'competition.' I don't see it that way. I enjoy supporting their work because we all share a common mission of having a more loving world."