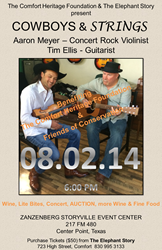 Center Point, Texas (PRWEB) June 30, 2014
The Comfort Heritage foundation supports the historical preservation of the iconic Texas Hill Country town of Comfort. The Elephant Story seeks to underwrite Asian Elephant conservation in general and The Golden Triangle Asian Elephant Foundation in particular through its store in Comfort.
The auction features vacation packages at the two leading elephant resorts in Thailand - The Anantara Golden Triangle and The Four Seasons Tented Camp. In addition, The Siam Hotel in Bangkok offers a luxurious stay as a gateway access to these unique elephant experiences. Many other auction items will be offered as well.
When: Saturday, August 2, 2014
Time: 6:00 pm
Where: Zanzenberg Storyville Event Center, 217 FM 480, Center Point, Texas
Purchase Tickets ($50) from The Elephant Story
723 High Street, Comfort, Texas
Telephone: 830.995.3133