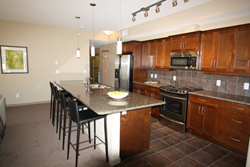 "People looking for a quality, high end luxury resort style living in Penticton don't need to look any further."
(PRWEB) July 03, 2014
During an interview posted on the CBC News website on April 11, 2014, Penticton Mayor Gary Litke said his city has been trying to get direct service to the town for a long time. "Penticton has been at a considerable disadvantage for some time now [because they had to] fly west first of all to fly east," he said. Now, many people who live in Alberta and work in the oilsands will no longer have to travel to Vancouver before arriving at their Penticton destination. The Penticton service will be offered by WestJet Encore once daily starting in late October 2014, according to WestJet spokesperson Robert Palmer. (http://www.cbc.ca/news/canada/calgary/westjet-encore-to-fly-between-penticton-and-calgary-1.2607204)
Skaha Breeze, located on Skaha Lake Road, is just a four minute drive from the Penticton airport and is now home to a number of residents including some from Alberta who will surely benefit from the new flights. Steve Brown, CEO of Gypsum Drywall and developer at a local condominium project, is looking forward to no longer having to rent a car in Kelowna and make the hour long drive to Penticton himself and recognizes that this is a huge convenience for others as well.
Located across the street from Brown's condo project, Skaha Breeze, is Skaha Lake, an 11.8 kilometre lake (7.3 miles) where the weather during the summer on average is 27 degree Celsius (80.6 Fahrenheit). Skaha Breeze is made up of two exclusive buildings; the first containing 18 suites ranging from 1 bedroom (781 sq ft) to two bedrooms (1130 sq ft). The second is a more intimate setting comprised of 12 suites that are larger in nature (up to 1395 sq ft for a 2 bedroom and den). This hidden gem is truly a diamond in the ruff, with 9" ceilings, granite, heated flooring in the kitchen and bathrooms, air conditioning, gas stoves and wine fridges, to name a few of the upgrades not expected in a condominium building that is tucked away from the hustle of Penticton's core. With prices starting in the mid $200,000's, most of the suites in the community still have the availability to choose the colours and finishing options that give you the opportunity to personalize your living space.
For those who like to relax and lay in the sun, this building offers two roof top terraces which both have unobstructed views of Skaha Lake with sun shade areas and mist machines should it get too warm. Penticton also hosts a number of activities starting in the early spring and continuing until after the Labour Day weekend: Peach Classic Triathlon (July 20), Peach Festival (August 6-10th), Jazz Festival (Sept 5-7th) Dragon Boat Festival ( Sept 6 & 7th), not to mention the 100+ wineries throughout the valley, making Penticton an excellent location for people of all ages, boasting plenty of activities for the whole family.
Brown says, "People looking for a quality, high end luxury resort style living in Penticton don't need to look any further."
For more information, please visit the Skaha Breeze website at: http://www.skahabreeze.ca or contact Eric at 250-770-0002.