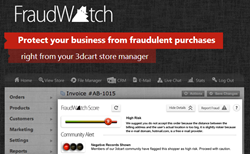 We at 3dcart are excited about how much time and money our clients will save by being protected by Fraudwatch.
Fort Lauderdale, FL (PRWEB) June 27, 2014
Engineered into the newest version of 3dcart, Version 6.3, the new screening rules can be easily configured by the merchant to automatically reject fraudulent orders before they are processed. With FraudWatch on guard, fraudulent orders never even reach an online store's credit card validation process, let alone through it. "The release of these screening rules, along with the launch of our latest software update, Version 6.3, further cements 3dcart's commitment to protect its online merchants," said Joe Palko, 3dcart's Chief Marketing Officer.
A subscriber to the service is able to set their FraudWatch settings to either automatically deny or set aside fraudulent orders until the merchant has had a chance to either approve or deny them. Merchants will also be able to set the screening criteria to watch out for orders from specified countries, regions, states, and cities; orders of certain amounts; specific payment methods; email service providers; FraudWatch scores; and if the customer is new, returning or anonymous. Subscribers will even be able to create their own screening rules.
"Never before has an online merchant had access to a fraud protection service that was so simple, yet so customizable," said Palko. "We at 3dcart are excited about how much time and money our clients will save by being protected by FraudWatch." To learn more about FraudWatch visit http://www.3dcart.com/fraud-watch.html.
About 3dcart
Founded in 1997, 3dcart is a complete and robust ecommerce platform designed to help e-store owners thrive in a competitive market. With hundreds of features built directly into its software, online merchants can effectively open, operate and maintain a successful online store with relative ease and efficiency. 3dcart currently powers tens of thousands of eCommerce merchants, and its support team is always available, at no additional cost, 24/7/365. 3dcart is an Inc. 5000 company, a Visa PCI Certified provider and a pioneer in mobile commerce and social media marketing. Fully scalable and completely customizable, 3dcart continues to be the eCommerce solution of choice by industry experts all over the world.
To Learn More about 3dcart
To learn more about 3dcart, please contact the company at:
http://www.3dcart.com
1-800-828-6650
support(at)3dcart(dot)com