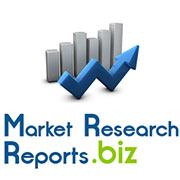 China Animal Vaccine Industry Report, 2013-2016
(PRWEB) June 27, 2014
Animal vaccine is a kind of biological agent that enables inoculated animals to produce active immunity for disease prevention. Europe and the United States and other developed countries are the main force of traditional animal vaccine markets in the world, still taking around 60% nowadays. In recent years, European and American animal vaccine markets have decelerated growth due to quality safety, high maturity and other factors, while the fast-growing animal vaccine market of China and other emerging countries will become a new highlight.
Browse China Animal Vaccine Industry Report with TOC:
http://www.marketresearchreports.biz/analysis-details/china-animal-vaccine-industry-report-2013-2016
In 2004-2013, Chinese animal vaccine market size maintained a high growth rate of 26.3%, reaching about RMB11.5 billion in 2013. The growth in 2007-2010 was mainly driven by the expansion of governmental tender vaccine, while that from 2011 was primarily thanks to the market-oriented vaccine expansion. The Chinese animal vaccine market is basically occupied by local companies, showing a self-sufficiency rate of around 90%.
Given the policy factor, Chinese animal vaccine products are divided into compulsory immunization vaccines and market-oriented vaccines. At present, the former include foot-and-mouth disease (FMD), bird flu, porcine reproductive and respiratory syndrome (PRRS), swine fever, and peste des petits ruminants (PPR); the latter refer to porcine circovirus (PCV), Newcastle disease, porcine parvovirus (PPV) and other varieties. Since 2011, the bids for compulsory vaccines proposed by the Chinese government has turned to be more fierce, with limited growth potential; however, market-oriented vaccines have developed faster, enjoying 40%-50% market share in 2013.
According to animal attributes, animal vaccines can be classified into swine vaccines, poultry vaccines, cattle & sheep vaccines, pet vaccines and other vaccines. In 2013, Chinese swine vaccines and poultry vaccines accounted for more than 80% of the animal vaccine market. In addition, the emerging Chinese pet industry is boosting the demand for pet vaccines, but due to lack of commercialized pet vaccines, China now mainly relies on imports. Thus, the Chinese pet vaccine market will see a larger space for development in the future.
To Download Full Report with TOC:
http://www.marketresearchreports.biz/sample/sample/208839
Table of Content
1. Overview of Animal Vaccine
1.1 Definition
1.2 Classification
1.3 Industry Chain
2. Status Quo of Animal Vaccine Industry
2.1 Global Market
2.1.1 Market Size
2.1.2 Market Structure
2.1.3 Competitive Landscape
2.1.4 New Epidemics and Products
2.2 Chinese Market
2.2.1 Market Size
Inquiry Before Buying Report: http://www.marketresearchreports.biz/analysis/208839
3. Development Environment for China Animal Vaccine Industry
3.1 Policy Environment
3.1.1 Major Policies
3.1.2 Tendering System for Compulsory Immunization Vaccine
3.2 Social Environment
3.2.1 Stable Development of Farming Industry
3.2.2 Large-scale Farming Becomes a Trend
3.2.3 Frequent Outbreaks of Animal Epidemics
4. Chinese Animal Vaccine Industry Segments
4.1 Governmental Mandatory Vaccine
4.1.1 FMD Vaccine
4.1.2 Bird Flu Vaccine
4.1.3 PRRS Vaccine
4.1.4 Swine Fever Vaccine
4.2 Market-oriented Vaccine
For More Research on Biotechnology Market Research Reports
http://www.marketresearchreports.biz/category/30
About us
MarketResearchReports.biz is the most comprehensive collection of market research reports. MarketResearchReports.Biz services are specially designed to save time and money for our clients. We are a one stop solution for all your research needs, our main offerings are syndicated research reports, custom research, subscription access and consulting services. We serve all sizes and types of companies spanning across various industries. Kindly Visit: http://www.marketresearchreports.biz/.
Contact US:
Office: United States
State Tower
90 State Street, Suite 700
Albany, NY 12207
United States
Toll Free: 866-997-4948
Tel: +1-518-618-1030
E: sales(at)marketresearchreports(dot)biz
More research reports with Smae Publisher: http://www.marketresearchreports.biz/publisher/67.