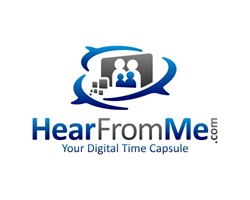 "We are offering these workshops as a way for people to get started and to also learn the importance of their non-financial legacy." - Wayne Bannatyne, VP, HearFromMe
Maitland, Florida (PRWEB) July 08, 2014
HearFromMe, Inc. has announced the addition of free Legacy Workshops that will focus on the importance of preserving and sharing your personal, non-financial legacy. The workshops will begin as an in-house workshop to be conducted at local adult living facilities in the central Florida, Orlando area, with the plan of extending them to other areas through a growing network of legacy advisors. In addition to conducting the workshops in person, HearFromMe also has plans to offer the workshops via webinar over the internet.
"As we have grown our business, we are discovering that more and more people want to make sure that they are saving all of the things that make them who they are, such as memories, family values, and beliefs, but they don't know how or where to start," said Wayne Bannatyne, VP of HearFromMe. He went on to say, "We are offering these workshops as a way for people to get started and to also learn the importance of their non-financial legacy."
All of these workshops are no charge and include resources to help organize the things that are of the utmost importance to the attendees. Along with the resources that are available, everyone that attends a HearFromMe Legacy Workshop will receive a free Digital Time Capsule from HearFromMe so that they can begin to share everything with their loved ones. "Everyone has a story, and everyone's story deserves to be preserved and shared," said M. Brett Jaffee, VP of sales for HearFromMe.
The workshops are launching in mid-July 2014, and will be an ongoing offering. Anyone wanting more info regarding scheduling of a workshop, can contact HearFromMe via a specific information request page, by clicking this link.