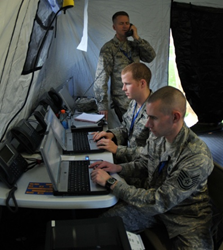 Fairfax, Virginia (PRWEB) June 30, 2014
The collaborative tool most often used for critical information exchange on military networks is chat. In many scenarios chat is preferred over radio because of its ability to reach multiple geographically dispersed participants simultaneously and to provide a persistent and readily user accessible log of the conversations. CG is an open-standards-based solution that enables secure, bi-directional, cross-domain chat and whiteboard collaboration. CG supports DoD mandated standard for chat - XMPP (Extensible Messaging and Presence Protocol).
CG v3 is ICD 503 compliant, certified for TSABI deployments and is going through SABI certification. CG v3 is interoperable with other XMPP servers such as Openfire, Isode M-Link and others. In addition to the current capabilities in CG such as whiteboards, federation with other CG servers and support for VMs, CG v3 provides:

Federation with other XMPP chat servers within the same domain
Dynamic Chat Rooms allowing trusted users to create and manage rooms and room memberships significantly reducing the need for centralized administration of the server
User and Room Management improved including configurable cross domain user search to be allowed or not allowed
Multiple Active Directory & LDAP Server support
One-to-One Cross Domain Chat
Java Web Start support enabling single click client updates across the network
CG v3 was used in the Coalition Warrior Interoperability eXploration, eXperimentation and eXamination eXercise (CWIX) earlier this month as a core service to the Mission Partner Enterprise. All information exchange objectives were achieved and all systems were interoperable between the U.S., NATO, and Coalition Partners. Based on government testing, CG can support at least 100,000 concurrent users per server and can scale further by federating multiple CG servers and with other XMPP compliant chat servers.
CG is deployed and being used operationally by US Forces and Coalition Partners and is on the AOC 10.2 Baseline (FY14/15). Installation (in both native and virtual environments), on-site training and help desk support is available.
About Trident
Trident Systems is a veteran-owned small business that delivers innovative and affordable technology solutions for critical government and commercial needs. Founded in 1985, Trident continues to harness technology and provide leading-edge solutions to every Military Service, the Intelligence Community, and a broad spectrum of government and industry partners. Trident develops products in three primary focus areas: Integrated C4I systems, Radar Systems, and Assured Collaboration Systems. Trident also provides an array of services from Complex Systems Engineering services for complex system development as well as Collaboration Services, providing a full range of design / build services for state of the art facilities including supporting of the Integrated Air Defense System in the National Capital Region. Trident's headquarters is located in Fairfax, Virginia. For more information, visit http://www.tridsys.com.