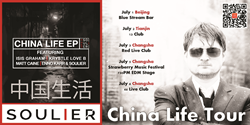 (PRWEB) June 30, 2014
MusicDish*China announced that Chinese music distribution service provider R2G and Chinese podcast sharing service Ximalaya are supporting Canadian EDM DJ Soulier's 'China Life' EP release and tour. The 3-city tour booked by MusicDish*China includes dates in Beijing, Tianjin and Changsha, culminating in a performance at one of China's biggest music festivals, Strawberry Music Festival.
DJ Soulier 'China Life' Tour
July 1 - Beijing Blue Stream Bar
July 2 - Tianjin 13 Club
July 3 - Changsha Red Live Club
July 5 - Changsha Strawberry Music Festival
July 6 - Changsha 46 Live House
Chinese music distributor R2G will distribute DJ Soulier's 'China Life' EP on major chinese digital outlets, including China's largest online independent music store Wawawa where it is presently available for sale at http://tinyurl.com/pfj9spp
R2G will also provide prominent placement for promotional banners in support of the EP and tour on the Wawawa site.
Audio sharing platform Ximalaya, which has been compared to streaming site SoundCloud in Western media, will be streaming his full EP as well as pushing audio message from DJ Soulier on his tour with exclusive news and prizes for fans at the shows. Ximalaya has over 6,000 content creators, with a total of over 240,000 channels and three million audio tracks. About 10,000 tracks are uploaded by users on a daily basis.
http://www.ximalaya.com/10453533
Ryan Hall, stage name Soulier, is the brainchild of DJ, electronic musician and composer. His brand new EP "China Life" will be launched to coincide with the Changsha Strawberry Music Festival, and showcases his unique style of deep trance, deep house, and techno styles. In Soulier's memorable DJ shows, he blends new and retro sounds, melodic vocals, and glitch deep beats. He plays bass, guitar, and keyboards, as well as using digital mediums to create new sounds and beats. Soulier has performed in many cities across Canada, and has recently appeared on CBC radio to talk about his China tour.
http://www.soulier.ca
http://weibo.com/djsoulier
MusicDish*China serves as a bridge between East & West, working on events featuring award-winning Taiwanese acts in Paris and NYC since 2011 as well as providing distribution/marketing and touring tours in China for Western acts. MusicDish*China has partnered with key events, from Midi and Zebra festivals to the Sound of the Xity conference that, in combination with its social media presence, has given it a unique brand positioning in the market. MusicDish*China has signed Taiwanese acts DJ Code, RED, Bearbabes and NY-based Hsu-nami for international development and management.
http://china.musicdish.com