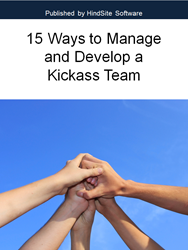 In order to have a successful business, you need a successful team.
St. Paul, MN (PRWEB) June 30, 2014
For many service businesses with hundreds or thousands of customers, the standards and processes that surround building a strong team are poorly defined. This can be highly detrimental to a field service business, whose employees truly are the foundation of the company.
To help those businesses, HindSite Software, a leading provider of field service software for green industry businesses, recently released an eBook, 15 Ways to Manage and Develop a Kickass Team, that provides 15 tips for building a team that will support a successful business.
"Success really depends upon your employees", says David Crary, President and founder at HindSite
Software. "The eBook outlines and describes the processes we at HindSite have put in place to support
our employees and create an open and productive environment."
15 Ways zooms in on what and when to implement standards and practices for maximum productivity.
"We run on systems learned from Gino Wickman in his book Traction" explains Crary. "You don't need to use Traction, but you do need to work to develop your internal processes if you wish to grow your business.
The eBook describes vital processes that create a strong field service team, including:

How to implement hiring/firing processes
How to follow a plan and have clear organizational goals
How to hold productive meetings
Tips to effectively measure productivity
Tips on where to find advice on employee management
"In order to have a successful business, you need a successful team," explains Crary, "With this eBook we describe the standards and procedures that we implement in order to achieve both."
15 Ways to Manage and Develop a Kickass Team is available to download for free at http://info.hindsitesoftware.com/15-ways-to-develop-and-manage-a-kickass-team.
About HindSite Software
HindSite Software has helped contractors better manage and grow their business with work order software since 2001. Initially designed as irrigation software, HindSite today assists service businesses with scheduling and billing, contact management, field data collection, and invoicing in QuickBooks®, Sage Peachtree®, and Simply Accounting®. When used by lawn care businesses, this paperless lawn care software has been proven to increase efficiency and organization, meaning greater profit potential with less administrative time.