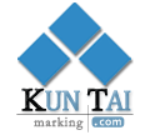 We provide high quality, low price, and we provide completely customized solutions with more 10 years experience for the marking solutions.
Wuxi, Jiangsu (PRWEB) June 30, 2014
Representatives with KT Marking announced today the official launch of its latest 2014 Fiber Laser Marking Systems.
Rex Hang, foreign trade manager, and spokesman for Wuxi Kuntai Automation Co., Ltd, (AKA, KT Marking), said the company has developed the latest fiber laser marking systems, which has the frame systems that cover the fiber laser machine.
"This design's main purpose is to protect your eyes from laser damage," Hang revealed.
KT Marking is the professional manufacturer of dot peen marking machines (ktmarking.com/dot-peen-marking-machine) and laser marking systems (ktmarking.com/laser-marking-machine) for quality control, automatic identification, and permanent traceability for metallic or plastic parts.
With over thousands of machines installed worldwide, KT Marking supplies the industrial marking equipment and verification solutions for production line, stand-alone, and portable applications.
The company spokesman went on to explain that KT Marking's latest product features one button to control the mark start and over.
He added that the frame glass will go down and up automatically, its compact structure makes sure the machine is stable, and comes equipped with a 20 watt fiber laser generator and high speed marking.
"The fiber laser marker can suit a variety of material, especially metal," Hang stressed before adding, "LED solutions for the laser focusing, make the machine, which is ISO9001: 20008, CE certificate approved, easy to use."
KT Marking, which is the winner of six awards dating from 2003 to 2013, developed its latest product so that it can be customized for users' detailed request.
It is integrated in the latest 12-inch touch screen industrial PC, and also comes with a two-year free warranty.
As to why anyone should give KT Marking's newest product a try, Hang said, "We provide high quality, low price, and we provide completely customize solutions with more than 10 years experience for the marking solutions."
For more information, please visit ktmarking.com/blog
About KT Marking:
KT Marking (Full name is Wuxi Kuntai Automation Co., Ltd) is a manufacture which specializes in marking system, laser equipment, and offers all kinds of marking solutions for different customer marking requirement.
The main products are laser marking machine, dot peen marking machine, marking systems solution customization. In order to supply best user experience, we integrated designing, manufacturing, service into one system.