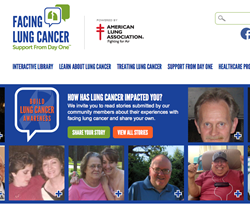 Washington, DC (PRWEB) July 01, 2014
Blue Water was recently recognized by the Web Marketing Association's 12th annual Internet Advertising Competition (IAC) for the American Lung Association's 'Share Your Story' campaign. Named "Best Associations Integrated Ad Campaign" and "Best Health Care Integrated Ad Campaign," the campaign honored Lung Cancer Awareness Month and provided support to patients, caregivers and survivors whose lives have been impacted by the disease.
The 'Share Your Story' campaign is part of the American Lung Association's Facing Lung Cancer microsite, http://www.mylungcancersupport.org, which provides resources and education to individuals and families living with a lung cancer diagnosis. By facilitating public discussion around lung cancer, the #1 cancer killer of men and women in the United States, the 'Share Your Story' campaign continues to help build awareness and reduce stigma around the disease, offering a source of support and providing a sense of reassurance and inspiration to those facing lung cancer.
The campaign consisted of a revamped homepage mosaic showcasing real people's lung cancer stories and photos, landing pages where people could submit their stories and read those of others, buttons to facilitate social media sharing, and a tab to gather stories from Facebook. Additionally, a press release, e-newsletter, Facebook posts and Tweets (using the hashtag #LCAM) were sent out to encourage story submissions and honor the stories shared. As a result of this campaign, visits to the website in the month of November increased by 102 percent from the previous month, with a total of 130 stories shared.
About the Internet Advertising Competition
Produced by the Web Marketing Association, the Internet Advertising Competition honors excellence in online advertising, recognizes the individuals and organizations responsible, and showcases the best in Internet advertising. First conducted in 1999, it is the first and only competition dedicated exclusively to online advertising.
The IAC's 2014 judges represent some of the greatest minds and leaders within the Internet Advertising community, including: Arc Worldwide, BGT Partners, Brunner Digital, Campbell-Ewald, CNN News Group, Deep Interactive Asia, Digitas, EuroRSCG 4D, Google, IBM Interactive, imc2, JWT, LeapFrog Interactive, Mass Transmit, McCann Worldgroup, Razorfish, Starwood Hotels & Resorts, Tectis GmbH, TMP Worldwide, Universal McCann Interactive and Wunderman / Y&R. These judges evaluate websites based on creativity, innovation, impact, design, copywriting, memorability, and use of the medium.
About Blue Water
Blue Water is an award-winning information technology, web design, and interactive marketing agency based in Washington, D.C., with offices in New York and San Francisco. The firm provides Government, business, and non-profit clients with full lifecycle support for digital initiatives including custom web & software development, commercial and government website design, digital marketing, hosting, 508 compliance and ongoing site maintenance. Leveraging cutting edge web design techniques, flexible open source software applications, emerging technologies, and integrated marketing campaigns, Blue Water Media offers a turnkey approach to attaining online success. For more information, please visit: http://www.bwm.com/.