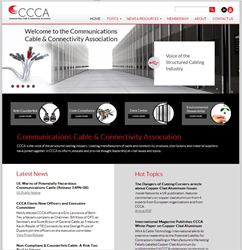 The site is structured around CCCA's focus: Anti-Counterfeit, Code Compliance/Standards, Environmental Sustainability and the Data Center
Washington, DC (PRWEB) July 01, 2014
The Communications Cable and Connectivity Association (CCCA), a non-profit group of leading connectivity and cabling manufacturers, distributors and material suppliers, has launched a completely redesigned website, which houses an extensive and constantly evolving library of information crucial to the structured cabling industry. With easy to find resources, tools and tips on numerous subjects, the new site is structured around the four main topics of CCCA's focus: Anti-Counterfeit, Code Compliance/Standards, Environmental Sustainability and the Data Center.
"The new site was designed to be an industry resource hub on topics in CCCA's mission with the goal of providing visitors 'what they need to know' about these important topics as easily as possible," said Frank Peri, CCCA executive director. Aside from the aesthetically pleasing new look, the user-friendly navigation is more agile and easier to scan, read and navigate, enabling subjects to be found quickly. "Just as crucial," continues Peri, "CCCA's key messages are evident and clear."
While searching for a specific topic, users can find all the important material representing the broad scope of the CCCA committee initiatives on that subject, which could include white papers, presentations, press releases, articles, and videos. For example, on the topic "anti-counterfeit"', one can easily find and access a white paper on the liability of installing copper clad aluminum as communications cable or a video explaining CCCA's CableCheck™ app, which is used to spot and avoid suspect counterfeit cable.
Constructing the site with a responsive design that adjusts to various viewing devices means that all the important information the CCCA has compiled is quickly and easily accessed by users wherever they are.
For more details on CCCA, view the new site at http://www.cccassoc.org.
# # #
About CCCA
CCCA is comprised of leading manufacturers, distributors and material suppliers who are committed to serve as a major resource for well-researched, fact-based information on the technologies and issues vital to the structured cabling industry. CCCA also is proactive at codes and standards bodies and other trade, industry and governmental organizations in communicating and influencing policy and decisions affecting the quality, performance and societal needs of the structured cabling infrastructure.
CCCA member companies are Accu-Tech; AlphaGary; Anixter; Belden; Berk-Tek, a Nexans Company; Cable Components Group; comCables; CommScope; Daikin America; DuPont; 3M; General Cable; Leviton; Optical Cable Corporation (OCC); OFS, a Furukawa Company; Panduit; PolyOne; Sentinel Connector Systems; Solvay Specialty Polymers; Superior Essex; TE Connectivity; The Siemon Company.
Headquarters: 1001 Pennsylvania NW, Washington, DC, 20004. For further information, visit the CCCA website http://www.cccassoc.org or contact Frank Peri, Executive Director at fperi(at)cccassoc(dot)org or by phone at (904) 223-4100.