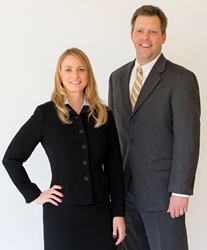 "Chilina Law Firm was formed with the goal of providing the local Central Coast community with high quality legal at an affordable price. The team here at Chilina Law Firm places high value on client relationships and communication."
Atascadero, CA (PRWEB) July 10, 2014
To better serve the legal needs of the Central Coast community, Atascadero lawyer Gregory J. Chilina recently welcomed Karen J. Chilina, Attorney at Law, as co-owner and shareholder of the Chilina Law Firm, a Professional Corporation. In addition, the practice relocated in May to a more visible and accessible office space on Morro Road near Curbaril in Atascadero, California.
In its new location, Chilina Law Firm continues to provide a wide-range of advising, transactional, and litigation services to its clients in business law, real property, and estate planning. The addition of Karen Chilina expands the firm's estate planning practice and signifies the ongoing commitment to build relationships with clients while continuing to provide high quality legal services.
Per Greg Chilina, "Chilina Law Firm was formed with the goal of providing the local Central Coast community with high quality legal at an affordable price. The team here at Chilina Law Firm places high value on client relationships and communication."
Gregory Chilina gained extensive business knowledge and experience by working in business banking and lending for nearly 20 years. He holds a Bachelor of Science in Economics and a Juris Doctorate. Practice areas for Gregory include:

General business law including advisement, formation, and dissolution
Civil litigation
Bankruptcy
Karen Chilina worked in the commercial real estate industry and has extensive legal experience. She holds a Bachelor of Science Degree in Criminology, a Paralegal Certificate, and a Juris Doctorate. Practice areas for Karen include:
Estate planning
Real property
The Chilinas maintain membership in several professional organizations including the State Bar of California, the American Bar Association and the San Luis Obispo County Bar Association. In addition, they are members of the Paso Robles Chamber of Commerce and the Atascadero Chamber of Commerce and place high value on giving back to the local community.
"Since 2011, Greg conducted pro bono legal work for Central Coast non-profit organizations which is keeping with our core values of giving back to our local community," said Karen. "In the beginning of each client relationship and in order to bring value to our clients, we offer free initial consultations."
With Chilina Law Firm, the client can be confident that his or her legal matter is handled competently and diligently and in a cost effective manner. "Legal services for the middle class" are the words Karen uses to describe Chilina Law Firm.
With more than 10 years of living on the Central Coast, the Chilinas continue to enjoy every aspect the Central Coast has to offer. They enjoy an active lifestyle, value the friendships they have formed, and the client relationships they have gained over the years. When not in the law firm office, the Chilinas may be found partaking in the Central Coast's warm weather, surf, wine, and other outdoor adventures. As they look forward to the future and continue to serve the legal needs of the local community, Greg and Karen extend their gratitude to current clients and invite new clients to visit their practice.
Chilina Law Firm is located at 7840 Morro Road, Suite 210D in Atascadero, California and offers free on-site parking. For more information, call (805) 538-5038 or go to http://www.chilinalaw.com. Visit their Google+ page here - Chilina Law Firm
Press release by San Luis Obispo web design company Access Publishing, 806 9th Street #2D, Paso Robles, CA 93446, (805) 226-9890.