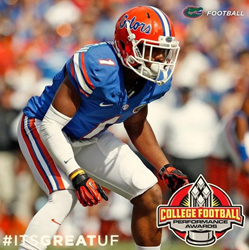 Charleston, SC (PRWEB) June 30, 2014
College Football Performance Awards (CFPA) announces the 2014 CFPA Defensive Back Trophy Watch List. The initial watch list includes 42 defensive backs from the Football Bowl Subdivision. All players are eligible for awards at their respective positions; players are not preemptively eliminated from consideration.
Tennessee is one of six FBS programs with a nation-best two defensive backs on the list. Nine SEC defensive backs earned spots on the list.
Last season, Oklahoma State's Justin Gilbert earned the 2013 CFPA Defensive Back Trophy. Gilbert, who is entering his rookie season with the Cleveland Browns, was the first defensive back selected in the 2014 NFL Draft.
Other CFPA winners at defensive back include: Deone Bucannon (Washington State), Phillip Thomas (Fresno State), David Amerson (North Carolina State), Mark Barron (Alabama), Jayron Hosley (Virginia Tech), and Earl Thomas (Texas).
2014 CFPA Defensive Back Trophy Watch List:
Landon Collins, Alabama
Tra'Mayne Bondurant, Arizona
Robenson Therezie, Auburn
Donte Deayon, Boise State
Cortney Lester, Buffalo
Jeremy Cash, Duke
DeVon Edwards, Duke
D'Joun Smith, FAU
Vernon Hargreaves, III, Florida
Nate Andrews, Florida State
P.J. Williams, Florida State
Derron Smith, Fresno State
Damian Swann, Georgia
Trevon Stewart, Houston
Isaiah Johnson, Kansas
Charles Gaines, Louisville
Bobby McCain, Memphis
Ladarius Gunter, Miami
Blake Countess, Michigan
Kurtis Drummond, Michigan State
Trae Waynes, Michigan State
Kevin Byard, Middle Tennessee
Jamerson Love, Mississippi State
Zack Sanchez, Oklahoma
Cody Prewitt, Ole Miss
Ifo Ekpre-Olomu, Oregon
Steven Nelson, Oregon State
Bryce Callahan, Rice
Jordan Richards, Stanford
Sam Carter, TCU
Brian Randolph, Tennessee
Cameron Sutton, Tennessee
Quandre Diggs, Texas
Deshazor Everett, Texas A&M
Lorenzo Doss, Tulane
Clayton Geathers, UCF
Su'a Cravens, USC
Josh Shaw, USC
Anthony Harris, Virginia
Brandon Facyson, Virginia Tech
Kendall Fuller, Virginia Tech
Cam Thomas, Western Kentucky
CFPA Announces 2014 FCS Wide Receiver Award Watch List:
CFPA also announces the 2014 CFPA FCS Wide Receiver Award Watch List. The initial watch list includes 38 wide receivers from the Football Championship Subdivision. Eastern Washington wide receiver Cooper Kupp returns for the 2014 season after earning the award in 2013.
2014 CFPA FCS Wide Receiver Award Watch List:
Dezmin Lewis, Central Arkansas
Tyrell Holmes, Central Connecticut
Lucas Shapiro, Cornell
William Morris, Davidson
Michael Johnson, Delaware
Milton Williams III, Delaware State
Adam Drake, Eastern Illinois
Keiondre Gober, Eastern Illinois
Cooper Kupp, Eastern Washington
Sam Ajala, Fordham
Tebucky Jones, Jr., Fordham
Brian Wetzel, Fordham
Kenny Cook, Gardner-Webb
Andrew Robustelli, Jacksonville
Reggie Begelton, Lamar
Mark Roberts, Lamar
Darrin Peterson, Liberty
Julian Burton, Missouri State
Neal Sterling, Monmouth
Ellis Henderson, Montana
Jamaal Jones, Montana
Zach Vraa, North Dakota State
Dimitri Stimphil, Northern Colorado
Kasey Closs, Portland State
Tobi Antigha, Presbyterian
Stephen Barnette, Richmond
DeAndre Carter, Sacramento State
Karel Hamilton, Samford
Reggie Bell, San Diego
Jason Schneider, South Dakota State
Willie Quinn, Southern University
Tyler Boyd, Stephen F. Austin
DJ Ward, Stephen F. Austin
Spencer Wilkins, Towson
R.J. Harris, New Hampshire
Karnorris Benson, Western Carolina
Tre McBride, William & Mary
Deon Randall, Yale
About College Football Performance Awards:
The goal of College Football Performance Awards is to provide the most scientifically rigorous conferments in college football. Recipients are selected exclusively based upon objective scientific rankings of the extent to which individual players increase the overall effectiveness of their teams. Twenty-eight CFPA winners have been first-round NFL Draft selections.