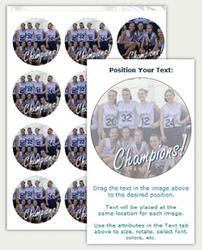 We strive to give our customers the greatest amount of design possibilities in the most convenient way possible so they can focus on decorating their cakes versus spending more time on their computers
Winchester, VA (PRWEB) July 01, 2014
Last week, Icing Images' released updates to their edible printing software tool, iPrint, to augment the versatility of editing photos for printing on icing sheets.
iPrint is Icing Images' online software designed to offer customers a convenient way to upload and modify images to print on all of Icing Images' icing sheet sizes for decorating cakes, cupcakes, cookies and other desserts. Icing Images offers this innovative software to all customers who have purchased Premium Icing Sheets within the last two years.
The newest iPrint features allow customers to add text to pre-cut circles, ideal for creating edible photos for cookies and cupcakes.
Additional updates offer the flexibility of uploading and saving images, creating and saving custom design templates, and managing labeled folders with easier navigation. iPrint has a new and improved open and save sheets dialog where previews of customers' saved sheets are presented for easy selection, a switch from the previous dropdown list.
iPrint also now offers a subscription to save unlimited sheets versus the ten sheets allowed in the non-subscription version.
iPrint is designed to format images according to various icing sheet sizes and pre-cut templates to print from home or office computers. Customers can select a single image or multiple images to print on an individual icing sheet or on pre-cut sheets with circles, squares or ovals. The software works completely online and requires no downloading of a program to the computer in order to work with a wide variety of printers.
"We strive to give our customers the greatest amount of design possibilities in the most convenient way possible so they can focus on decorating their cakes versus spending more time on their computers." – Deborah Coughlin, Icing Images owner.
iPrint works with Icing Images other software tools available by subscription, iDesigns™ and Template Designer™. iDesigns is a collection of over 1600 designer prints licensed for edible printing use. Template Designer is a software tool providing further customization of edible printing templates for icing sheets of all sizes, including those sold by competitors.
Icing Images has been a leading distributor of edible photo and edible paper art supplies for over a decade, offering edible ink printers, edible ink, icing sheets, electronic and manual die cutters, and DECOgel™ to retail bakeries, home bakers and cake decorators.