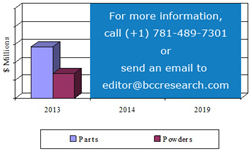 Global Market for Powder Metallurgy to Reach $32.5 Billion by 2019
Wellesley, Mass., (PRWEB) June 30, 2014
BCC Research (http://www.bccresearch.com) reveals in its new report, POWDER METALLURGY: TECHNOLOGIES AND GLOBAL MARKETS, the global market for powder metallurgy (PM) is expected to grow to $32 billion by 2019, registering a five-year compound annual growth rate (CAGR) of 14.8%. The powder shipments segment is fast progressing in this market with a CAGR of 7.5%.
The steady growth of PM over the past several decades can be attributed to metal powder-based parts used to replace castings, forgings and machined parts. The industry has consistently demonstrated that it can meet the demand of manufacturers at a lower cost than other technologies. The highlight of PM production is that it can be used to fabricate large numbers of parts with complex shapes that meet demanding specifications. Unlike conventional machining, PM creates very little scrap or waste.
Global consumption of particulates and other advanced powders, although still relatively small, is expected to grow at a CAGR of nearly 13% as new applications are developed and commercialized in the near future.
"Technological progress has continued as iron-based powders with increased compressibility were introduced along with insulated iron powders, powder injection-molding equipment and warm-compaction technology," says BCC Research analyst, Robert H. Moran. "PM components that offer cost-effective alternatives to machined components, castings and forgings are also expanding their markets. In addition, standards have been refined and greater emphasis has been placed on user benefits."
POWDER METALLURGY: TECHNOLOGIES AND GLOBAL MARKETS provides up-to-date information on the current status of the global powder metallurgy market and to assess its growth potential during the period from 2013 to 2019. It also examines industry standards, government and industry support, and other key factors related to the success of powder metallurgy. The quantity and value of various powders and parts shipments are projected from 2013 to 2014, along with five-year CAGR projections from 2014 to 2019. The report also identifies major manufacturers of powder metal and other related materials, such as ceramics and nanopowders, special alloys and metal matrix composites.
Editors and reporters who wish to speak with the analyst should contact Steven Cumming at steven.cumming(at)bccresearch(dot)com.
About BCC Research
BCC Research publishes market research reports that make organizations worldwide more profitable with intelligence that drives smart business decisions. These reports cover today's major industrial and technology sectors, including emerging markets. For more than 40 years we've helped customers identify new market opportunities with accurate and reliable data and insight, including market sizing, forecasting, industry overviews, and identification of significant trends and key competitors. We partner with analysts who are experts in specific areas of industry and technology, providing unbiased measurements and assessments of global markets. Our clients include the top companies in industries around the world as well as universities, business schools, start-ups, consulting firms and investment companies. BCC Research is a unit of Eli Research LLC. Visit our website at http://www.bccresearch.com. Contact us: (+1) 781-489-7301 (U.S. Eastern time), or email information(at)bccresearch(dot)com.
Data and analysis extracted from this press release must be accompanied by a statement identifying BCC Research LLC, 49-2 Walnut Park, Wellesley, MA 02481, Telephone: (+1) 781-489-7301; Email: editor(at)bccresearch(dot)com as the source and publisher. Thank you.