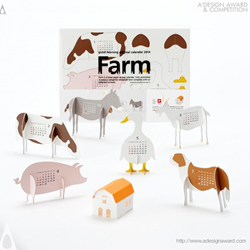 Como, Italy (PRWEB) June 30, 2014
A' Design Award and Competition is pleased to announce that the 2014 calendar design titled, "Farm," by Katsumi Tamura has been honored with the renowned Platinum A' Design Award in Graphics and Visual Communication Design Competition. Katsumi Tamura's work was elected as one of the winners by the esteemed jury panel of the A' Design Award & Competition which consists of 50 designers, scholars, and press members from seven continents.
About the 2014 Calendar: Farm
Katsumi Tamura, the project leader of the awarded work, "Farm," explains, "The Farm paper craft kit is an easy to assemble calendar design. No glue or scissors needed. Anyone can assemble by fitting together parts which feature a unique mark to ease the process. Each animal will turn into a two-month calendar. Quality designs have the power to modify space and transform the minds of its users; they offer comfort of seeing, holding, and using. Great designs are imbued with lightness and an element of surprise, enriching space. Our original products are designed using the concept of Life with Design." Learn more about this award-winning design here: http://www.adesignaward.com/design.php?ID=29513
Project Members for Farm:
The Calendar Design Farm was realized by Art Director: Katsumi Tamura;
Designer: Takahiro Sugawara, and;
Copywriter: Toshiyuki Nagamatsu
The Platinum A' Design Award:
The Platinum A' Design Award is a prestigious award given to top 1% percentile designs that has accomplished an exemplary level of excellence in design. Entries to the design competition are judged by design professionals, academics, and press members who peer review and anonymously vote on each entry, following strict evaluation guidelines and predetermined criteria. Laureates of the A' Design Award & Competition are provided a series of PR and publicity services such as inclusion in DXGN design news network to celebrate the status of winning the accolades.
About A' Design Award and Competition:
A' Design Award and Competition was established to create incentives for designers, artists, architects, and brands worldwide to come up with superior products and services that benefit society. Each year, the A' Design Award & Competition highlights the very best products from across the globe. The ultimate aim of the competition is to create a global awareness for good design. Discover A' Design Awards at: http://www.designaward.com