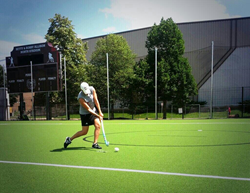 "We will see immediate changes in our performance." - Gabby Gomez Sosa, Head Field Hockey Coach
Springfield, MO (PRWEB) September 04, 2014
Offering student-athletes a state-of-the-art playing surface for Field Hockey was Missouri States number one priority when selecting the new field hockey pitch. Missouri State shifted toward the World Cup standard in selecting the Sporturf™ FIH71 product. The high performance durable surface is a similar style the 2014 World Cup Field Hockey matches are played on.
Head coach Gabby Gomez Sosa stated, "This provides us with the right tools to recruit—everyone worked very hard to make this a reality." Sosa went on to say, "We will see immediate changes in our performance." A predictable, fast surface is what FIH71 delivers. Sporturf™ has developed a world class Field Hockey surface utilizing the latest technology, and players will excel on Sporturf's™ Field hockey system. In the game of speed, Sporturf's™ FIH71 will ensure players are always at game speed. The durability comes from the technologically advanced Silverback™ coating along with the highest performance TenCate yarn available in the market place. FIH71 is designed to hold up to the punishment Field Hockey dishes out. It is the ultimate Field Hockey surface.
Missouri State will be looking to host many Field Hockey events for tournaments and regional events throughout the year. "The surface is unique," added Craig Shonk, Sporturf™ Midwest Owner. "The field is designed to be played on wet which makes the speed of play exceptionally fast but still providing excellent ball control. This is one of the elite surfaces for Field Hockey in the United States and we are proud to be part of such a great program."
An international manufacturer and builder of synthetic turf fields, Sporturf™ has installed its turf blades in over 300 million square meters worldwide. Notable installs have included Clemson University, Samford University, The Citadel, Detroit Silverdome, and hundreds of high schools ranging from Dodge City High School and Beckman Catholic High School in Dyersville, Iowa, to Grace Academy in Knoxville, Tennessee.