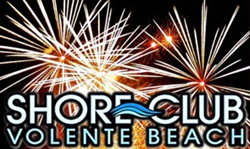 "That's right, the Annual Fireworks Show is on Saturday July 5th, so whoever said Lake Travis is closed is mistaken. We have 100 ft. of water in front of our place so come in by boat or car."
Lake Travis Volente, Texas (PRWEB) July 02, 2014
The Volente Beach Waterpark & Shore Club Restaurant, on the main body of Lake Travis (water 100 ft. deep), will explode with patriotic tunes over Starnes Island on Saturday, July 5 during our Annual Independence Day Party at Shore Club Volente Beach. The family-friendly event is open to the public and has become the most exciting way to celebrate Independence Day in the Greater Austin and Hill Country area. It's also the most spectacular fireworks display anywhere on the lake.
Visitors will receive free admission to the show with purchase of waterpark passes that day. After 8 p.m., tickets will be $8 per person. Be sure to bring blankets and chairs, and pick a spot to lounge on the sandy beach of Lake Travis.
For the VIP treatment, seating on the Shore Club patio is available for the first 200 guests lucky enough to get reservations in time. The price is $25 per person and includes a Tex-Mex Fajita Buffet meal, drink ticket, live music, plus a great view of the fireworks. Kids under 12 years are $13. Live entertainment features Prometheus Tree & DJ Mike. Advance prepaid reservations are required and can be made by calling (512) 258-5110.
Important links:
Beach Access Tickets for July 5th Party - http://www.shoreclubtx.com/store/index.php/
Volente Beach Waterpark - http://www.shoreclubtx.com