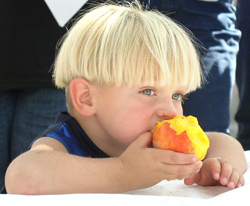 Grand Junction, Colorado (PRWEB) July 02, 2014
The Grand Junction Visitor and Convention Bureau (GJVCB) has created a lesson plan with six enlightening ways to learn about the wonders of western Colorado. From ranger walks to dino digs, these attractions and activities make the grade for sharing insight into this culturally rich region.
Here's a crash course on six favorites that both educate and entertain.
1) Colorado National Monument Ranger Walks
When John Otto first witnessed the rugged redrock canyons south of Grand Junction in 1906, it was love at first sight. His passion sparked him to create Colorado National Monument and serve as the park's first custodian. Today, students K-12 can study geology, ecology and cultural history along ranger-guided field trips and earn a Junior Ranger badge in the process. For a little "101" on what's available, check out http://www.nps.gov/colm/forkids/index.htm.
2) Dino Dig
The largest multi-disciplinary museum between Salt Lake City and Denver, Grand Junction's Museum of Western Colorado engages with its dinosaur expeditions, extensive educational programming, and historic and cultural trips and tours. For a dino fix, kids can dig for bones and search for tracks in the 150-million-year-old badlands of the Morrison Formation. One-day "101" sessions include transportation between Dinosaur Journey Museum in Fruita and the quarry, field instruction and Paleo lab tour. For details, visit http://www.museumofwesternco.com.
3) Historic Farms
The Museum of Western Colorado is also a go-to source for sampling western Colorado's agricultural past with historic farm tours. Costumed interpreters at the region's Cross Orchards Historic Site guide students back in time through scenic grounds and historic buildings. Its barn/packing shed and bunkhouse are listed on the National Register of Historic Places. If timing is right, everyone scores a cookie fresh from the bunkhouse woodstove. Click on the Cross Orchards Historical Site link at http://www.museumofwesternco.com.
4) Math and Science
Integrating hands-on experiences that kindle and maintain student enthusiasm, the John McConnell Math and Science Center of Western Colorado is evolving into a world-class learning facility. The center is packed with intriguing interactive displays and exhibits encouraging kids to explore and question what they're discovering. Among its top learning options are exhibit bingo and exhibit scavenger hunts. It also offers a resource library and self-contained kits for classroom use. Study the details at http://www.mathandsciencecenter.org.
5) Ag Tours
Well known as the Peach Capital of Colorado, the Palisade area also produces a delicious bounty of apples, apricots, cherries, pears, plums, melons, chili peppers, heirloom tomatoes and herbs. Fresh produce and packaged fruit products are abundant at roadside stands and orchards. Palisade's agricultural businesses offer lessons on the growing process with a pick of tours from orchards and farms to vineyards.
6) The Children's Nature Center (Grand Valley Zoological Quest)
This live animal nature education center connects children to nature and the life sciences. Visitors can interact with such creatures as tortoises, parrots, amphibians and sting rays. This summer the center is offering Animal Explore Classes. Find information on times, admission fee and classes at http://www.gvzooquest.org.
About Grand Junction
Nestled near 11,000-foot Grand Mesa and the 7,500-foot Book Cliffs, Grand Junction (http://www.visitgrandjunction.com) is the largest city in western Colorado. At an altitude of 4,586 feet, warm summers and moderate spring, fall and winter seasons allow for year-round golf, hiking and biking. Boasting more than 275 days of sunshine annually, Grand Junction recently was named one of the eight sunniest cities in the United States by TourismReview.com. Among Grand Junction's spectacular red cliffs and winding canyons are the Grand Mesa, the world's largest flat-topped mountain, the Colorado National Monument, Book Cliff Wild Horse Area, two national scenic byways and five golf courses. Grand Junction lies in the heart of the Colorado-Utah Dinosaur Diamond. The area also is home to Colorado's wine country, with nearly 30 vineyards and wineries.