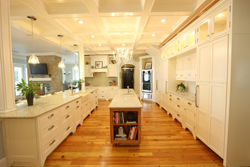 Old wood isn't just about sustainability and beauty. It's about carrying a piece of history forward.
Farmington, NY (PRWEB) June 30, 2014
Many of the buildings that were part of the General Electric Factory in Bloomfield, New Jersey were slated for demolition, their bones to be laid to rest in the landfill. Pioneer Millworks, a leader in the reclaimed wood industry, stepped in to prevent the wood from ending up as unnecessary waste. While the main building currently remains and is being converted into residential spaces, Pioneer Millworks reclaimed 81,500 board feet of Long Leaf Heart Pine timbers as well as a small amount (15,900 board feet) of Oak from several of the surrounding buildings.
"Heart Pine in its higher grades is a quality wood with great durability, density, and a bit of antique resin which achieves a wonderful look that adds a unique flavor to any project," said Jered Slusser, reclaimed wood and design expert at Pioneer Millworks.
Opening the doors to its 17 buildings in the 1900s, GE expanded to meet the demand for battery manufacturing. With over two thousand workers, and one of the largest local manufacturing facilities, they were busy producing the batteries behind communications systems as well as kinetoscope, wax for phonograph cylinders, x-ray equipment, medical instruments, electric fans, and later, much of the equipment for WWII. in 1959, after a decline in the demand for manufacturing, the company vacated Bloomfield.
"Reclaimed Heart Pine is said to be the species our country was built on. Factories and mills, such as the GE Complex, were largely constructed using these pine timbers," explained Jennifer Young, General Manager of Pioneer Millworks. "This was a large building and the Heart Pine used to construct it is today a highly desired species due to its dense grain patterns, deep patina, character, and of course, history."
While the GE factories have run out of juice, their wooden timbers, posts, and planks will be reused around the world. Beginning with raw industrial salvaged timbers, Pioneer Millworks will mill board stock repurposing the antique wood into paneling, flooring, fixtures, and more to be used in commercial and residential spaces. "Old wood isn't just about sustainability and beauty. It's about carrying a piece of history forward," added Young.
Pioneer Millworks is a leader in the reclaimed wood industry. To date, they've rescued nearly 22 million board feet of old wood from rot and landfills, giving it new life as flooring, millwork, cabinetry, and more. All manufactured in the USA from New York and Oregon — in a way that's healthy for customers, employees, and the environment. Pioneer Millworks is FSC certified and Green America approved. All of their products are LEED point eligible.