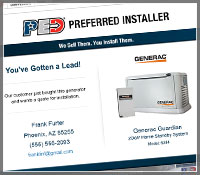 Today's savvy shoppers are leveraging the Internet to pick the perfect generator first. They look for a local installer second. - Jon Hoch
Bolingbrook, Illinois (PRWEB) July 01, 2014
ElectricGeneratorsDirect.com today launched a new Preferred Installer program designed to help generator purchasers easily find a qualified installer in their local market.
"Let's face it. The phonebook is just a glorified paper weight," said Jon Hoch, president and founder of Power Equipment Direct, the parent company of Electric Generators Direct. "Today's savvy shoppers are leveraging the Internet to pick the perfect generator first. They look for a local installer second."
The new Preferred Installer program combines the benefits of an online catalog and an interactive local directory. Shoppers can leverage interactive buyer's guides to size their generator and now request installation quotes from Preferred Installers in their local community.
The shopper simply selects the number of quotes they would like to receive while checking out. Once their purchase is complete, they receive an email, listing the Preferred Installers in their area. In addition, customers can double-check the installer's reputation through quick links to the Better Business Bureau and other online rating sites.
At the same time, the installer receives a separate email, containing the customer's contact information and purchase details. The installers typically contact the customers directly, speeding up the quotation process.
"Standby generators require plumbing and electrical connections. It's generally recommended that it be done by a licensed and certified installer," said Jim Baugher, standby generator expert at Electric Generators Direct.
Installers interested in receiving free, high-qualified leads are welcome to submit an online application to join the program.
Power Equipment Direct and Electric Generators Direct make their product experts and customer service associates available to help answer any questions or concerns shoppers may have, but installation is not a service the company provides. This program is their way of providing the service, but the installation is the sole responsibility of the installer, and Power Equipment Direct is not responsible for any transactions or communications had with the installer or business that's responsible for completing the installation.