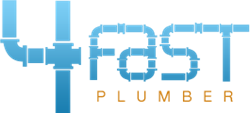 (PRWEB) June 30, 2014
For more than twenty years, 4FastPlumber has given homeowners in Northern Virginia efficient and affordable plumbing services, both in terms of new construction/remodeling projects and the repair of existing systems. Their team of master plumbers and gas fitters works 24/7 to take care of any plumbing situation homeowners face, and now 4FastPlumber is pleased to announce the expansion of their available services.
Besides the home's plumbing system, the next most expensive repairs homeowners have is in their HVAC unit. Problems arise because the units are not the right size for the home, they are not properly maintained, or the parts wear out, and the problems only get worse over time. 4FastPlumber now offers a full service HVAC division to take care of all three problem areas. New and existing customers can find coupons and other discounts available for their service calls at http://4fastplumber.com, and long-term customers can get even more discounts with the platinum service designation.
At http://4fastplumber.com, homeowners can sign up for an HVAC inspection at a time that is convenient for their schedule. This service call includes a full inspection of the HVAC unit for potential issues. If a problem is found, 4Fastplumber's technicians will work with the homeowner to find a solution that solves the problem, and fits within the homeowner's budget. Should a homeowner decide that it is time to upgrade to an energy efficient unit, the technicians will help guide the customer through the process to find a model with the right up front and annual operating costs.
With their expansion into HVAC service, 4FastPlumber brings the quality of service and expertise that their customers have come to expect to a brand new area of home maintenance. Based on their track record of excellence, 4FastPlumber's foray into HVAC service is nothing but good news for homeowners.
For more information, visit http://4fastplumber.com or call (800) 461-7770.