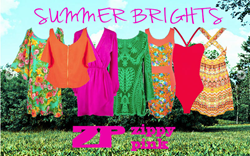 Our ultimate goal is to provide the best selling latest fashion styles
(PRWEB) June 30, 2014
ZippyPink announced that they were voted Los Angeles' Best Online Wholesaler by Fast Fashion Wholesale Magazine readers.
ZippyPink's aesthetics are deeply rooted in the Southern California lifestyle from which it was founded, where a savvy view of fashion and fun-loving attitude are infused into the entire ZippyPink customer experience.
This unique, high-quality women's clothing wholesaler has been an icon in the wholesale industry for more than seven years. ZippyPink launched its new site in 2014 to introduce new ways of wholesale shopping for its quickly expanding customer base.
With changing trends in the wholesale industry, customers are looking for higher quality pictures in order to make better purchasing decisions. Keeping this growing demand among fashion connoisseurs in mind, ZippyPink introduced big pictures featuring 1000 pixels as well as more pictures with different colors compared to other wholesalers.
With the launch of the new website, ZippyPink is able to let their loyal customers see the most accurate representation of clothing with HD quality pictures and daily uploads of 50 to 100 styles every day. Yes - every day. When customers miss a day, they miss a lot of the latest trends in the wholesale industry. Now customers have no need to look any further. Only top selling styles are uploaded to this new website.
The website has also made it even easier to shop. The addition of the new 'My Account' program allows wholesale buyers to check pending statuses, whether an item is out of stock, the date of shipment, and even tracking numbers at any time. Wholesale buyers do not need to wait for the shipping status. They can log in to get updates 24/7.
"Our ultimate goal is to provide the best selling latest fashion styles," said Sunny Yun, the marketing manager of ZippyPink.
ZippyPink's customers love that they can see hundreds of new styles every day. ZippyPink makes it easy to shop new inventory additions. Consumers can check the "New Arrivals" category and they can even click to view all new items that have been uploaded in the previous seven days.
Recently, ZippyPink announced its special offer for 10% off an entire order promotion through the '2014 Buyer's Guide' issued by Fast Fashion Wholesale Magazine. At the moment, all its women's wholesale fashion apparels are offered at discounted rates, up to 30 to 50 percent off compared to the regular price of other wholesalers (if the discount coupon is used). On the company's one-stop website, discounts are also provided for maxi dresses, solid and print dresses, solid tops, pants and many others.
ZippyPink.com is the go-to wholesale website for an unrivaled collection of over 100 of the fashion brands in women's wholesale apparel.